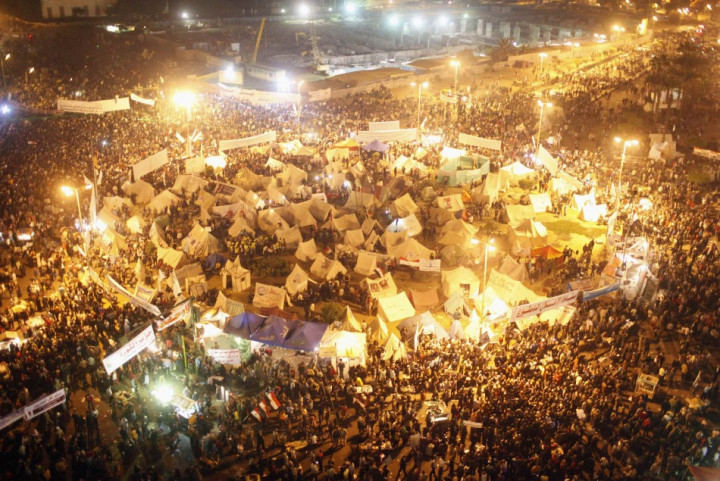 Anti-Mursi protests has intensified in Cairo's Tahrir Square as the ruling political party Muslim Brotherhood and other Islamist parties are planning another rally on Saturday near the Cairo University.
Though the Muslim Brotherhood initially had plans to conduct the rally at Tahrir Square, the Islamist group decided to flex muscles and changed the venue at the last minute.
Brotherhood said the decision was taken to avoid any clashes between the supporters and opponents of Mohammed Mursi.
Scores of ordinary citizens and prominent figures including Nobel Laureate politician Mohamed ElBaradei had joined the sit-in as part of the "Friday Protests".
The Egyptian president also went ahead with the draft constitution which was hastily supported by the Islamist-dominated assembly, despite the decree which sparked off the controversy for Mursi.
The opposition groups have announced that they will increase their efforts in bringing down the draft, which draws its sources of legislation from Islamic 'Sharia law'.
"Egypt will not be forced to choose between a dictatorial declaration and a rushed constitution written by a fraction of Egyptian society. Egypt will not bow down to the will of a few," said former presidential candidate and key opposition figure Hamdeen Sabbahi during his address at the Tahrir Square.
"The president and his constituent assembly are currently staging a coup against democracy. Regime legitimacy fast eroding," tweeted the liberal politician ElBaradei.
Meanwhile, one of his key advisers of Mursi has joined the opposition forces to protest against the president.
Samir Morkos who was the only Christian in Mursi's Islamist advisers' group, had resigned soon after the president announced the decree which provided him autocratic powers.
Mursi and Brotherhood nevertheless continued their firm stance over the decree and the latest draft of the constitution.
"The constitution is extremely balanced - it walks a fine line between right and left, and the end result is satisfying for the majority. We were expecting more, but it's a big step forward. It cuts the powers that the president had in Egypt's 1971 Constitution in half, and balances them with the power of parliament," a senior adviser to Brotherhood, Gehad el-Haddad told Ahram Online.