Muslims disguise their Christian neighbours with hijabs to flee Isis-besieged Marawi
Fighting continues in Philippines city where trapped civilians face death due to bombings and starvation.
Muslims in the besieged town of Marawi, southern Philippines, are helping Christians flee by giving them hijabs - the veil traditionally worn by Muslim women - to avoid capture by Isis-linked fighters.
Throughout the conflict, Christians have been killed by the rebels that are affiliated with the Islamic State militant group. Government investigators told local Filipino press that eight Christians were shot dead for refusing to recite the Muslim creed.
Filipino forces have been battling militants from the Maute and Abu Sayyaf groups - affiliated to Isis terrorists – in Marawi since 23 May.
The fighters launched the assault on the town and kidnapped civilians – mainly Christians – in retaliation to the army's failed attempt to capture terrorist Isnilon Totoni Hapilon.
The fighting has caused the death of 290 people – 206 militants, 58 soldiers and 26 civilians – according to latest estimated by the army and displaced more than 200,000 people.
"Some of the stories that stuck were Muslims helping protect Christian workers by letting them borrow a hijab," Dr. Gioia Ancheta, head of a psychosocial therapy team that is helping civilians who managed to escape, told Reuters.
The army estimates there are between 300 and 600 people still trapped in the city. Their lives are at risk due to bombings, starvation as well as the militants' use of people as human shields.
Local politician Zia Alonto Adiong said those trapped in their houses have no running water or electricity and many people are facing starvation, with some having resorted to eating "their blankets" as they no longer have any food.
Adiong, who is helping with rescue operations, also claimed the streets of Marawi are littered with corpses as fighting continues.
The army said earlier in June it was confident it could recapture the entire town within few days. However, fighting has continued since.
Some reports have claimed US special forces have joined the Filipino army in its fight to drive militants out of Marawi, something that President Rodrigo Duterte said he was not aware of. The leader, who earlier this year said US troops stationed in the Philippines had to leave, claimed he "never approached America" for help.
The army said earlier in June that it believed Hapilon was still hiding in Marawi's Barangay Lilod Madaya area, where at least 13 Filipino soldiers had been killed during clashes with militants the previous week, local media reported.
Fighting prompted Duterte to declare martial law on the island of Mindanao,where Marawi is located.
There is a large population of Muslims in Mindanao, but the rest of the country is predominantly Roman Catholic population.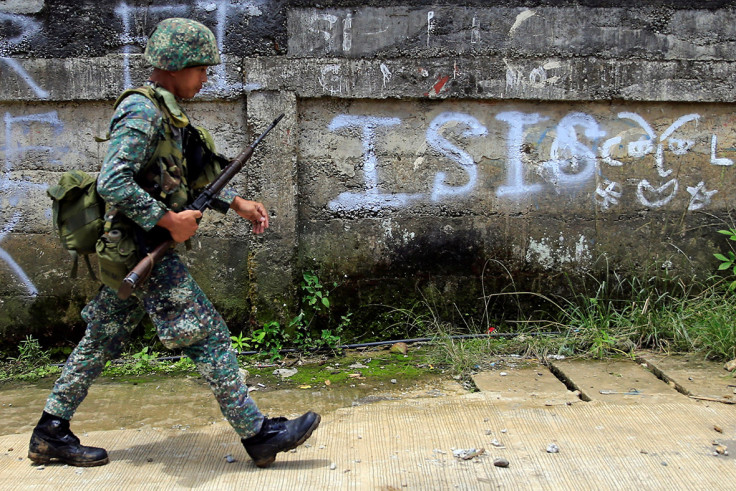 © Copyright IBTimes 2023. All rights reserved.