Philippines-based terrorist Isnilon Totoni Hapilon has once again made headlines worldwide after a failed raid to capture him in May sparked a month-long siege in one of the archipelago's many islands.
Filipino forces have been fighting against Maute militants in the town of Marawi since 23 May, when the fighters – affiliated to both the Isis terror group and Hapilon's Abu Sayyaf group – began attacking the town and kidnapping civilians in retaliation to the army's failed attempt to capture Hapilon.
Violence has killed dozens and displaced thousands, prompting President Rodrigo Duterte to declare martial law on the island of Mindanao,where Marawi is located.
Hapilon fact file
Name: Isnilon Totoni Hapilon
Date of birth:18 March 1966
Place of birth: Bulana, Latawan, Basilan, Republic of the Philippines
Wanted for (among others): Hostage Taking; Murder of a US National outside the US; Using and Carrying a Firearm During a Crime of Violence
Who is Isnilon Totoni Hapilon?
A Filipino national, Hapilon was born in 1966. He graduated from the University of the Philippines School of Engineering, according to the FBI.
His involvement with the jihadist Abu Sayyaf Group (ASG) has been traced as far back as 1997.
Hapilon became one of the most prominent leaders of ASG, known for carrying out kidnappings for ransom kidnappings and attacks against both civilians and the army.
Hapilon gained international notoriety following his alleged involvement in the 2001 abduction of 20 civilians – 17 Filipinos and three Americans – from the Dos Palmas Resort on a private island in the southwestern Philippines. The hostage crisis ended with the death of at least five abductees and several Filipino soldiers.
One year later, the District of Columbia charged him in absentia for his involvement in the hostage crisis.
The US Department of State is offering up to $5 m (£3.9) for information leading to Hapilon's capture or conviction. after he was indicted for his alleged involvement in terrorist acts against US and other foreign nationals "in and around the Republic of the Philippines".
'Proud and Charismatic'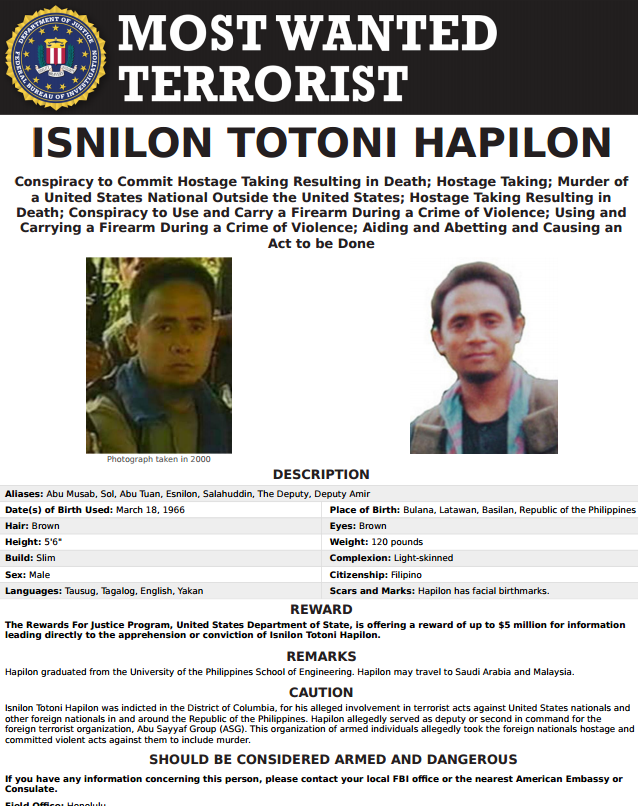 The US Department of State Rewards for Justice Program describes him as "likeable by peers proud and confident in his abilities".
Security analyst and counter-terrorism expert David Otto described him as a "very elusive" and "charismatic" terrorist.
"He has been known for ruthless but calculated strategy with a strong background in kidnapping westerners," he told IBTimes UK.
Otto also drew a parallel between Hapilon and contested leader of Nigeria-based Boko Haram terror group, Abubakar Shekau, as both militants have been – inaccurately – reported as killed or injured during numerous military strikes.
"He keeps resurrecting like Boko Haram's Abubakar Shakau," Otto said.
Links with Isis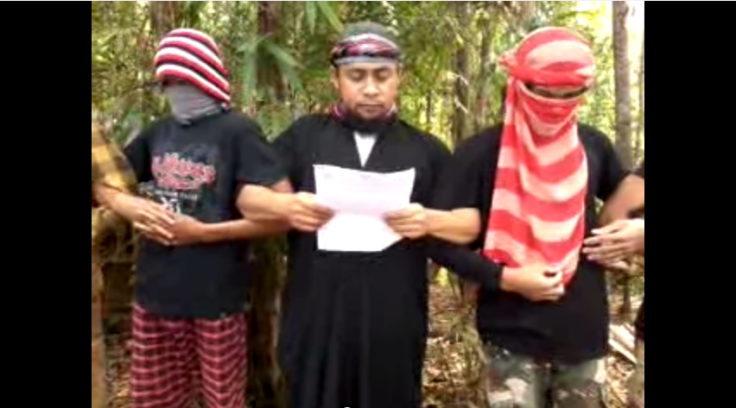 One of the most wanted terrorists in both the Philippines and the US, Hapilon has become increasingly known as the "Emir of the Islamic State forces in the Philippines" after he and ASG pledged allegiance to Isis in 2014. Isis controls swathes of territories in the Middle East and, through local terror groups, in several African countries.
"Isis used Hapilon's charismatic and strategic capabilities to declare an Islamic State South East Asia branch," Otto explained. He added that Hapilon's allegiance is strategic for Isis, which is losing territories in Iraq and Syria.
"Hapilon's modus operandi and his ability to evade capture is an indication of the local support he gets along the relatively poor southern region of Mindanao, a perfect blend to hide and also to gain recruits."
The Filipino army said on 13 June it believed Hapilon was still hiding in Marawi's Barangay Lilod Madaya area, where at least 13 Filipino soldiers were killed during clashes with militants earlier in June.