Arsene Wenger believes the arrival of Lucas Perez and Shkodran Mustafi will represent a successful summer transfer window for Arsenal as they would have met the objectives set at the start. The French manager has also dismissed talks that the two deals are panic buys after the club missed out on their initial targets.
Granit Xhaka arrived early in the transfer window from Borussia Monchengladbach following which Arsenal only signed Takuma Asano — who has left on loan to Stuttgart — and Rob Holding, who is seen more as a prospect than an immediate fix. Wenger had made it clear that he is looking to sign another defender and a forward before the close of the transfer window, which saw the club linked with a number of players.
The north London club failed with a move for Jamie Vardy, while they were out-priced in their move for Lyon's Alexandre Lacazette. The Deportivo La Coruna forward was the next option, and the Gunners have agreed a £17m deal and are close to completing the signing. Mustafi, on the other hand, has been one of the transfer sagas of the summer, with both Arsenal and Valencia going back and forth on the fee before finally agreeing on a reported £35m ($46m) fee.
"Look at my face. Is this the face of someone who tends to panic buy?" Wenger said with a smile during his pre-Watford match press conference, as quoted by the Guardian.
"No, it is the case that everybody is waiting to get the deals done. When a [foreign] club wants to sell to an English club today they ask for a huge amount of money. So it takes a long time to settle [on a price]. In the next two or three days everybody will find agreements."
Lucas, as he prefers to be known, was pre-dominantly played as an attacking midfielder or as a winger in his previous clubs and it was only last season that he made the transition to playing as a centre-forward on a regular basis. Wenger is convinced he will be effective in his new position and highlighted a few of Arsenal's fourth signing's qualities ahead of his impending move.
The manager, however, was cautious in making a judgment on Mustafi, who will be filling in the centre-back role in the absence of compatriot and Per Mertesacker in the hope of convincing Wenger to keep the spot on a permanent basis. He is aware of the Premier League having spent two-and-a-half years with Everton as a teenager, but is yet to make his first appearance having only played in the Europa League for the Toffees.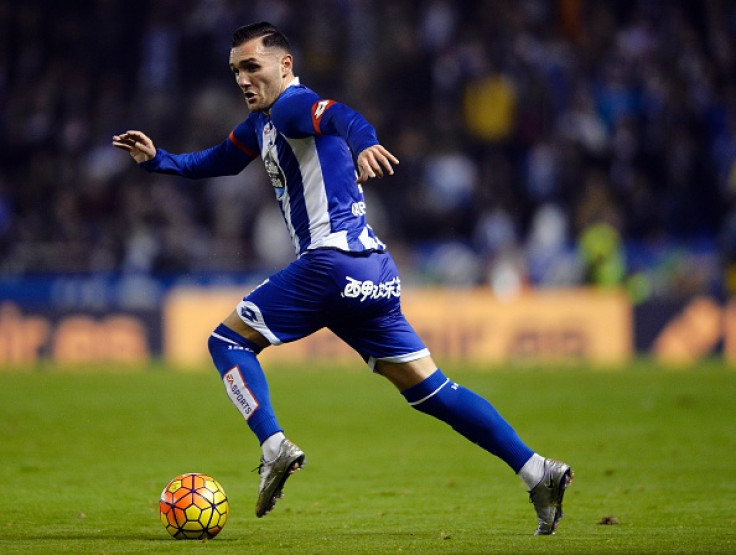 "He's a late developer because he played in a different position [on the right-hand side of attack]. He has moved centrally and in a successful way. I think he has good link-up qualities, he's good at receiving the ball and he's a good finisher. But let's see if we can finish the job first," the French coach said of the Deportivo forward.
"I think he's a good signing but time will tell," Wenger said. "He had two years at Everton, he went to Italy, then Spain. But, you know, 19 is a difficult age to play centre-half in the Premier League. He was Valencia's captain last season and, if we get it done, we'll have achieved what we wanted [this window]," he added.