Shkodran Mustafi out of Valencia squad to face Eibar as Arsenal move looms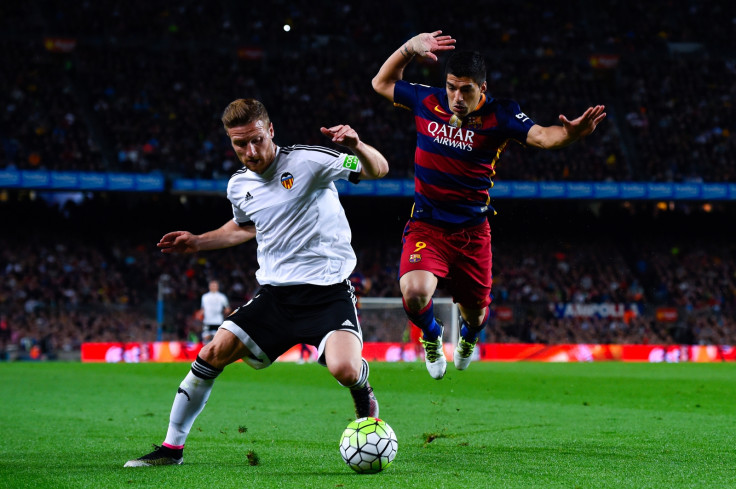 KEY POINTS
Former Everton centre-back is reportedly set to sign a five-year contract for a fee in excess of £35m.
Recent reports claimed German international will undergo his medical on Friday.
Shkodran Mustafi's move to Arsenal now looks a step closer after Valencia decided to leave the German international out of a 19-man squad to face Eibar on Saturday (27 August). Manager Paco Ayestaran, has however, included Paco Alcacer in the team list despite the striker reportedly set to join Barcelona.
Arsenal have been in negotiations to sign the former Everton centre-back since the beginning of August after Arsene Wenger earmarked him as a top transfer target, following the long-term injury suffered by Per Mertesacker in pre-season. Yet the negotiations suffered a blow after Ayestaran revealed that Mustafi was not on sale.
However, on Thursday there was a new twist in the transfer saga after it emerged Arsenal had agreed terms with Valencia to lure the player to the Emirates Stadium for around £35m ($46.2m).
Wenger even confirmed on Friday morning that the Gunners were in advanced negotiations to sign both Mustafi and Deportivo La Coruna striker Lucas Perez.
"We are working on those deals," he told reporters when asked about Perez and Mustafi. We are not close enough to announce today that they will sign for us, and will we sign anybody before the end of the transfer window? I am 99% confident. Today, maybe I am a bit too optimistic, but I hope we have done what we wanted before [deadline day]."
The deal for Mustafi now looks only a matter of time after Valencia's manager conceded defeat leaving Mustafi out of his squad for the La Liga game against Eibar. BBC has reported that both the centre-back and Perez are expected to have their medicals at Arsenal today.
Speaking in the press conference ahead of the game, Ayestaran has admitted that Mustafi is close to leaving after Arsenal improved their offer for the centre-back.
"A week ago the offer wasn't enough to get Mustafi but now the offer is considerable. We have an adequate replacement," he admitted.
Valencia are also expected to sell Alcacer to Barcelona before the end of the transfer window. However, unlike Mustafi, the Spanish striker has been included in the squad to face Eibar.
Barcelona chief Albert Soler has confirmed that the striker is likely to move to the Nou Camp before the end of the transfer window and that the clubs are also in negotiations to complete the deal before the end of the transfer window.
© Copyright IBTimes 2023. All rights reserved.