Samsung has announced the Galaxy Tab 2 10.1, featuring a dual-core 1GHz processor, 1GB of RAM and Android 4.0 Ice Cream Sandwich at Mobile World Congress in Barcelona.
The 10.1-inch tablet joins the smaller 7-inch model in the Galaxy Tab 2 range by Samsung, and the 10.1 will be released in the UK before in March, before any other market; both size tablets can be had in Wi-Fi only or 3G plus Wi-Fi versions.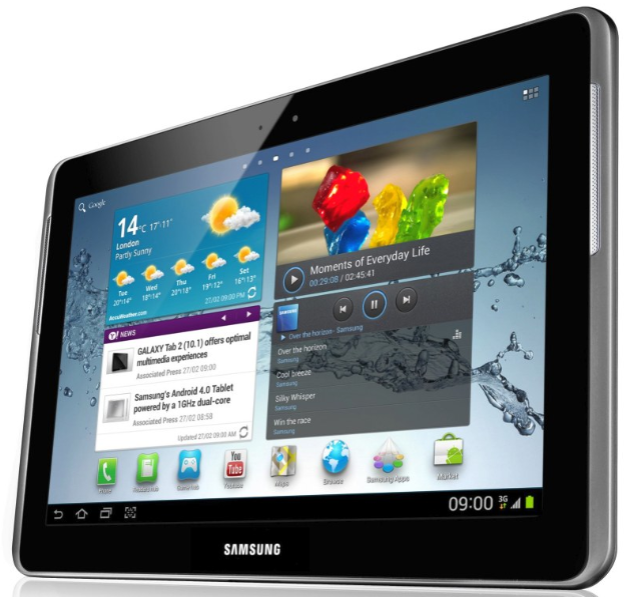 In a press release ahead of Mobile World Congress (MWC), Samsung said: "Light and portable, the Galaxy Tab 2 (7.0) is the ideal personal on-the-go device; while the larger Galaxy Tab 2 (10.1) is well-suited for home and family use."
Both Galaxy Tab 2 tablets have a 1GHz processor with 1GB of RAM and run Android 4.0 - better known as Ice Cream Sandwich. Around the back, there is a 3-megapixel camera and there's also a VGA-quality on the front for video calls.
The Galaxy Tab 2 10.1 can be had with either eight, 16 or 32GB of internal storage, while a microSD card slot means that can be bumped up by a further 32GB.
Samsung has upped the screen resolution of the 7-inch model from 1024x600 to 1280x800; meanwhile, the 10.1-inch Galaxy tab has been given a much-improved battery life - with capacity up from 7,000 mHa to 11,000.
The Korean company has yet to say anything about pricing for the new range of Galaxy Tabs, but the 10.1-inch model will be available in the UK before anywhere else.
This will come as a welcome surprise to UK customers, who have been unable to buy the original 10.1 Tab after a long-running legal dispute over patents with Apple.
Mobile World Congress runs all week and the International Business Times UK will be reporting from the scene, offering the latest news on product releases and keynote addresses from the major smartphone and tablet manufacturers.