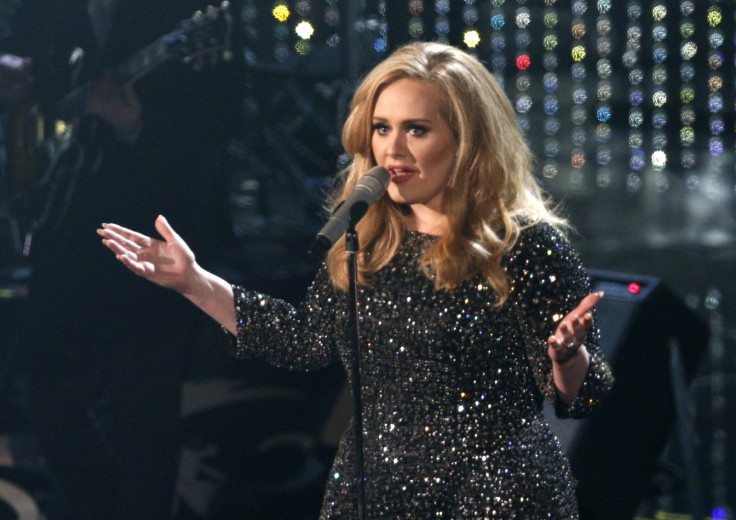 Adele took the world by storm in just 30 seconds. The Someone Like You singer released a teaser of her new single in an advert break during The X Factor and fans are completely beside themselves with excitement at the prospect of her comeback.
In the 30-second clip, which aired on 18 October, Adele's voice can be heard singing the words to the ballad with only the lyrics flashing on the screen against a black background. The teaser did not include any official information, such as a single or album title, release dates or even Adele's name with fans only identifying the singer through her recognisable vocals.
The teaser appeared to overshadow the actual episode of ITV's The X Factor with fans flooding social media with reactions to the clip. One commented: "omg Adele. Has. A. New. Album. Coming. I MISSED HER. SHES SO GOOD. MY HEART ISNT READY," while another tweeted: "EVERYONE STOP WHAT YOURE DOING AND BE AWARE THAT ADELE IS COMING FOR ALL OUR SOULS."
Other other fan said: "All i care about is Adele right now. I don't want to discuss anything else." Singer Sam Smith, who has dominated the UK music scene in Adele's absence, also reacted to the new development, telling his 3.7m followers: "HYPED over that Adele snippet. Anyone else?"
Rumours surrounding Adele's comeback have been circulating for some time with reports claiming the Rolling In The Deep singer will release her album, reportedly titled 25, in November 2015. In August 2015, Billboard claimed that Adele's record label XL Recordings has been formulating a masterplan for the Grammy-winner's comeback, which will allegedly include appearances on four major US chat shows and a special interview to air on the BBC.
Bookmakers Ladbrokes has also placed Adele as one of its top favourites to headline the Glastonbury Festival in 2016. A spokesperson for the bookie said: "Adele's going to be rolling in the Glastonbury mud next year if this gamble is on the money. Punters have piled into her odds, and with tickets on sale in a couple of weeks, festival organisers may have let a cat out of the bag."
Adele released her most recent album, 21, in 2011 and it became a bestseller with more than 30m copies sold worldwide and receiving platinum certification 16 times.
The best reactions to Adele's single teaser: