Hollywood actress and United Nations special envoy Angelina Jolie and Myanmar opposition leader Aung San Suu Kyi visited garment factory workers in Hlaing Tha Yar, a town on the western outskirts of the city.
The actress, who arrived in Myanmar on Wednesday, had earlier met President Thein Sein in the capital Naypyidaw and also survivors of sexual violence in the war-torn northern Kachin state, AFP reported.
Jolie met with Nobel laureate Suu Kyi at her residence in Yangon before they visited women from Myanmar's largely female textile industry workforce at their living quarters in Hlaing Tha Yar.
They spoke to the workers about their living and working conditions as well as their aspirations for further education, according to a statement on Facebook posted by the opposition National League for Democracy party which Suu Kyi heads.
The actress was in Myanmar at the invitation of Suu Kyi, according to the British Embassy, which is working with Jolie as part of the Preventing Sexual Violence Initiative that promotes prosecutions of sexual violence perpetrators.
This is her first visit to Myanmar.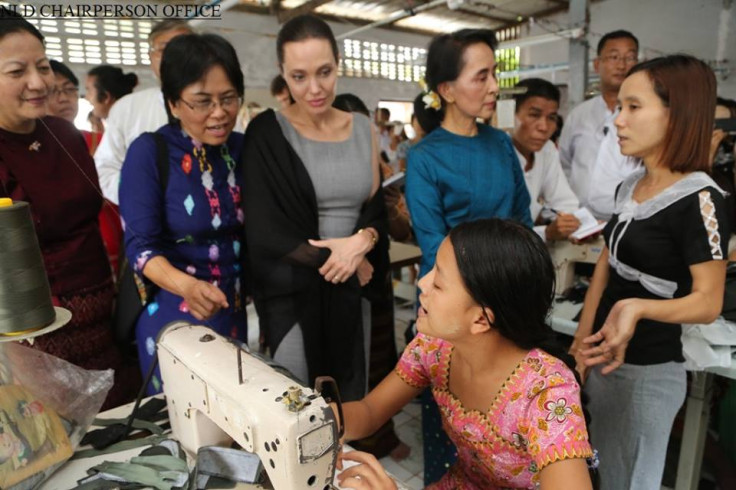 Myanmar still faces dozens of long-raging civil wars in its border areas and the government is trying to broker a nationwide ceasefire with rebels before general elections are held in November.
In Kachin some 100,000 people have been displaced since the civil war erupted in 2011.
Jolie arrived in Myanmar after a visit to Cambodia where she plans to direct a film for Netflix about Cambodia's Khmer Rouge regime seen through the eyes of a war-scarred child.