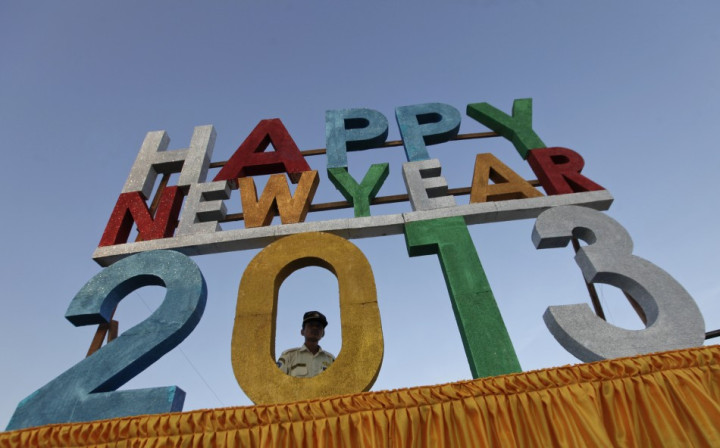 New Year's Eve 2012's celebrations are likely to be remembered in Myanmar long after everywhere else as Burmese people were allowed to count down the seconds for the first time since the military took over 50 years ago.
In a sign of further tentative steps towards opening up and democratisation, the Burmese government allowed gatherings for a fireworks display to welcome in 2013.
"This is very exciting and also our first experience in celebrating the New Year at a big countdown gathering. We feel like we are in a different world," said Yu Thawda, a university student.
About 72,000 people gathered in a designated area - a large field in Myanmar's former capital and largest city of Yangon, organisers Forever Media Group and Index Creative Village said.
"We want residents of Yangon to enjoy the public countdown like in other countries," said Win Thura Hlaing, a spokesman for Forever Media.
A big and colourful signboard reading "Happy New Year 2013" was erected in the field.
A large screen broadcast live New Year's Eve countdowns in neighbouring Singapore, Malaysia, Indonesia and Thailand.
Until recently, public gatherings have been banned under military junta rule, meaning any New Year celebrations were held discreetly in private homes and hotels.
Assemblies were only recently allowed for celebrations to mark Myanmar's New Year in April, and the only grand fireworks display permitted was organised for Armed Forces Day in honour of the military rulers.
"This event is a very good outlet, particularly for young people," said presidential adviser Ko Ko Hlaing of the New Year gathering.
He said such celebrations "help build mutual understanding between the people and the government".
President Thein Sein, who entered office a year ago, started a reform programme that eased media censorship and a ban on public protests.
His efforts were welcomed by the international community and celebrated by the first visit in the country of US President Barack Obama.