Myanmar: Police charge garment workers with rioting in strike crackdown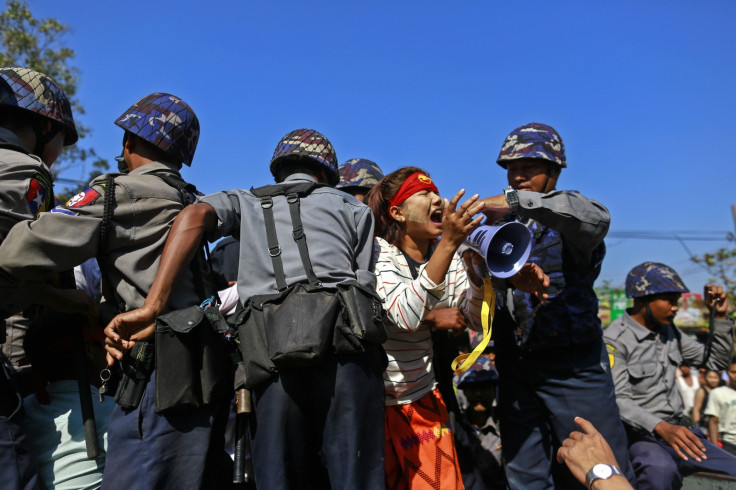 Myanmar police have charged 14 garment workers with rioting following a crackdown on a strike, as authorities face increasing criticism for their handling of a series of protests.
The workers, eight men and six women, were part of a strike by hundreds of factory workers, who blocked roads to the commercial hub of Yangon in a protest over wages, state media said.
They were arrested on Wednesday as police broke the strike, the Global New Light of Myanmar reported.
While most of the employees have since returned to their jobs, those arrested "face up to two years in prison and fines if convicted" under the Rioting Act.
Commentators fear authorities are suspending democratic reforms in the run-up to a breakthrough general election expected at the end of this year.
Ugly crackdowns
Recent heavy-handed crackdowns on protests are raising concerns that the security forces have resorted to a repressive instinct, forged during decades of authoritarian rule.
On Thursday, uniformed police backed by men in civilian clothes used batons to beat activists protesting in downtown Yangon - a former capital of Myanmar - in solidarity with a rolling student demonstration calling for education reform.
Last week, riot police surrounded hundreds of students and monks in the town of Letpadan to stop them from proceeding with a march into the city of Yangon.
When around 300 people defied orders from police to disperse, the authorities warned they would act to "restore law and order" if the students continued the march towards the city.
Water canon vehicles arrived at the scene, according to the Associated Press news agency, as well as trucks filled with riot gear.
Eight activists were arrested but released on 27 February, 2015, without charge, one of them told AFP.
"What happened yesterday was completely unacceptable with the authorities using men in plain clothes to launch a crackdown," said Nilar Thein, a leader of 88 Generation students group who was released last Friday.
Students have rallied for months against an education law, demanding changes to the legislation to decentralise the school system, teach in ethnic languages and allow the formation of student unions.
© Copyright IBTimes 2023. All rights reserved.