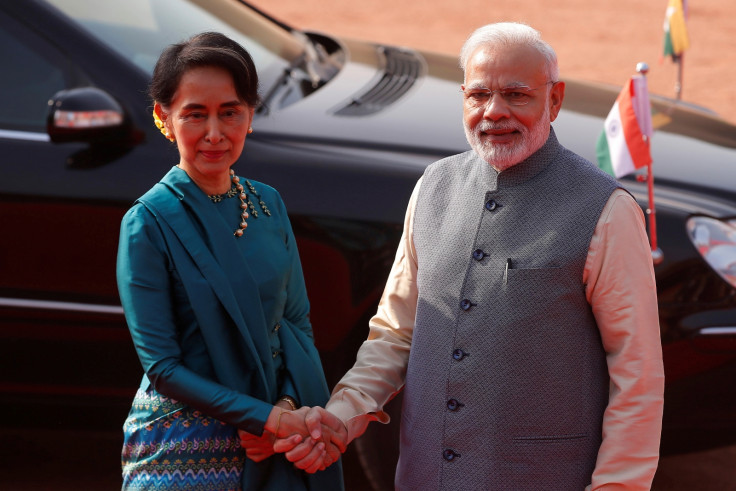 Myanmar's State Counsellor Aung San Suu Kyi is hoping for better ties with India as she arrived in New Delhi as part of her official tour. She was accorded a ceremonial welcome at the Rashtrapati Bhavan, the presidential palace, on Tuesday (18 October) by Prime Minister Narendra Modi.
Suu Kyi, officially Myanmar's foreign minister as well, met her Indian counterpart Sushma Swaraj expressing hopes to take the bilateral ties to a new level.
"It is a great pleasure for me to be back in India again especially in Delhi where I spent so many years. I look forward to better relationships between our two countries because every time I come back to India, I realise how close we are to one another, and how much I believe that our friendship will stand the test of time," said Suu Kyi, the de facto leader of Myanmar, formerly Burma.
India's relations with Myanmar dates back to colonial rule under the British. Freedom fighters of both the countries — especially Suu Kyi's father General Aung San and India's first Prime Minister Jawaharlal Nehru — shared cordial relations. Myanmar's Buddhist national identity and India's historical ties with Buddhism have only helped boost the ties between the two countries so far. Suu Kyi had also spent her early years in India when her mother was serving as Myanmar's ambassador to India.
Her visit to India has come at a crucial phase when Myanmar has just entered a phase of democracy following a lengthy authoritarian rule by a military junta for decades. This is also Suu Kyi's first visit to India since her party, the National League for Democracy, rode to power in the landmark elections.
Both India and Myanmar — which share a 1,640km border — are keen to bolster bilateral trade particularly in the wake of China's growing presence in the region. The Myanmar leader, who already took part in one of the outreach programmes of the Brics summit in Goa, is to hold bilateral talks with Modi during the second leg of her tour as well. She is accompanied by a large delegation of top ministers and senior government officials.