Five things Ethiopia has banned under its state of emergency
Social media, diplomats' movement and TV among things banned after anti-government protests result in the death of hundreds.
Social media, diplomats' movement and local TV channels are some of the things Ethiopia has banned under a state of emergency declared in October due to prolonged unrest in the country. The new measures were announced after months of anti-government protests in Oromia state and the Amhara region.
The state of emergency is supposed to last for six months. It was declared after activists and rights groups repeatedly claimed protests have resulted in the death of more than 500 people. They accuse the police and army of using disproportionate force against protesters, something the authorities have denied.
The opposition claimed the new measures aim to quell ongoing anti-government protests.
However, the government said, in several statements, the state of emergency will be used to coordinate security forces against "anti-peace elements" blamed for the protests.
Here are five things among a list of 31 that the government has banned under its state of emergency:
1. Gestures
Ethiopians are no longer allowed to make political gestures, such as crossing their arms above their heads, a typical sign of protest used by Oromo people.
Earlier this year, Olympics silver medal winner Feyisa Lilesa failed to return to Ethiopia after he staged a protest against alleged human rights abuses committed by his government.
The runner crossed his arms over his head after he crossed the finish line of the men's marathon in Rio de Janeiro on 21 August.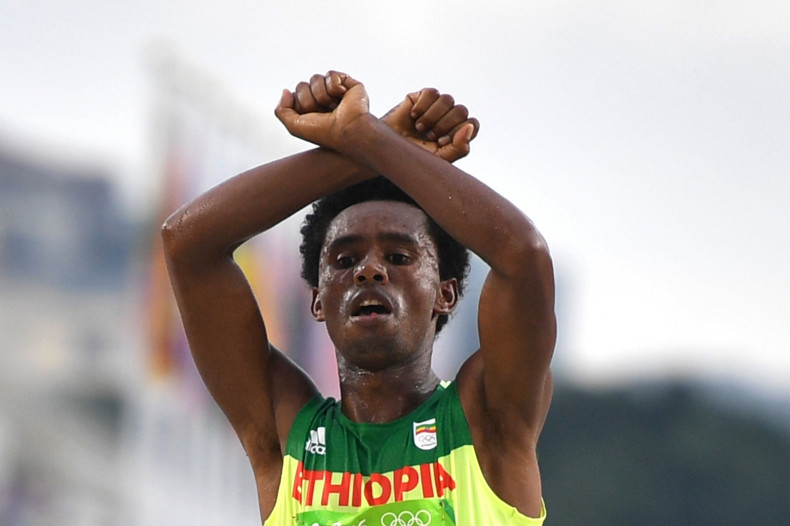 2. Communication with terrorists or communication that creates misunderstanding
Any communication, including writing, that will create misunderstanding between people or unrest is prohibited. Any communication with "terrorists and anti-peace groups" is also forbidden.
Reasons behind protest
Demonstrators first took to the streets of Oromia in November 2015 to voice their dissent against a government draft plan that aimed to expand the boundaries of the capital.
They argued the so-called "Addis Ababa master plan" would lead to the forced evictions of Oromo farmers and would undermine the survival of the Oromo culture and language.
The Ethiopian government scrapped the master plan, following increasing agitation. Protests are continuing, with people calling for self-rule, the liberation of political prisoners and the end of what they perceive to be a military regime in the region. This includes an end to an alleged crackdown by security forces on "peaceful and unarmed" demonstrators, mainly students and farmers.
Human Rights Watch (HRW) and other rights groups claimed security forces killed at least 100 people in the Amhara region during anti-government protests held in August. The government denied the allegations of violence.
Protests erupted in Amhara after thousands took to the streets of Gondar and Bahir Dar to protest over the administration of disputed territories.
This includes "sharing or distributing writings from terrorist groups, holding their logos or advertisements."
People are also barred from using social media, such as Facebook and Twitter, to contact "outside forces".
3. Assemblies and Protests
Ethiopians have been barred from holding unauthorised protests and assemblies in order to ensure peace in the country. Rallies in education buildings are also forbidden. Protesting on religious, traditional or public holidays is no longer possible.
4. "Terrorist" media
Ethiopian citizens are no longer allowed to watch TV channels or lisent to radio programmes including the independent Ethiopian satellite service (Esat) and the Oromia Media Network (OMN) "or other similar terrorist linked media".
5. Freedom of movement
Diplomats cannot travel more than 40km (25m) outside of the capital Addis Ababa without official permission. People cannot enter public places if they are in possession of firearms, sharp objects "or anything that will cause fire". If a curfew is ordered, "movement of persons is prohibited."
---
Full document on state of emergency here
---