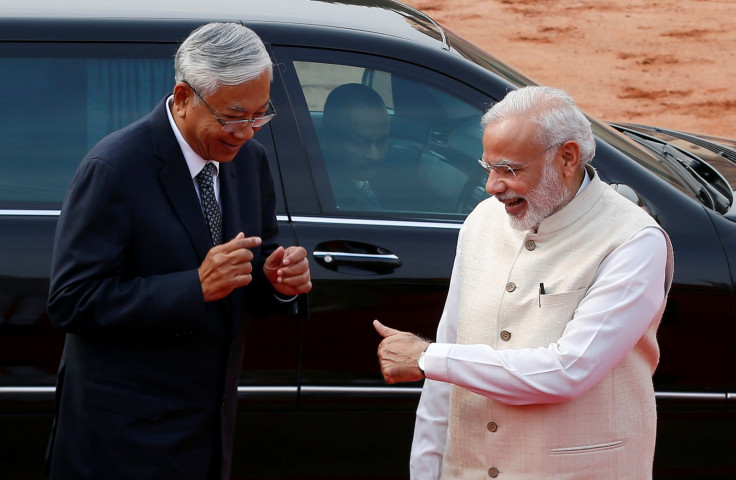 India's Prime Minister Narendra Modi has lauded the special ties the country has with Myanmar. After holding lengthy bilateral talks with Myanmar's President Htin Kyaw, Modi said: "Myanmar is special for us. It holds a unique position in India's neighbourhood. The longstanding cultural and historical linkages between our societies form a solid foundation of our ties."
This is the first top-level engagement between India and Myanmar since pro-democracy icon Aung San Suu Kyi rode to power in Myanmar.
Kyaw is on a four-day visit to India seeking support in the ongoing rebuilding efforts in Myanmar, formerly Burma. Myanmar wants India to step up its role in several sectors ranging from infrastructure and education to healthcare and energy.
"India-Myanmar partnership is defined not just by good words and pure intent. Its extent and depth is shaped by a robust development cooperation partnership, which has a strong 'people first' philosophy. India's nearly $2bn development assistance is touching the lives of the common man of Myanmar," added Modi.
This is Kyaw's first overseas trip since he took over as president. Kyaw is accompanied by several top ministers and government officials.
Modi and Kyaw signed four major deals including one for the construction of as many as 69 bridges in Myanmar, which is often regarded as a strategic neighbour by India.
Before holding discussions with Modi, the Myanmar leader spoke to India's foreign minister Sushma Swaraj, who had pledged "all help" to the country. Kyaw's trip to India follows Swaraj's one-day visit to Myanmar on 22 August.
He was also accorded a ceremonial welcome at Rashtrapati Bhavan, the presidential palace.