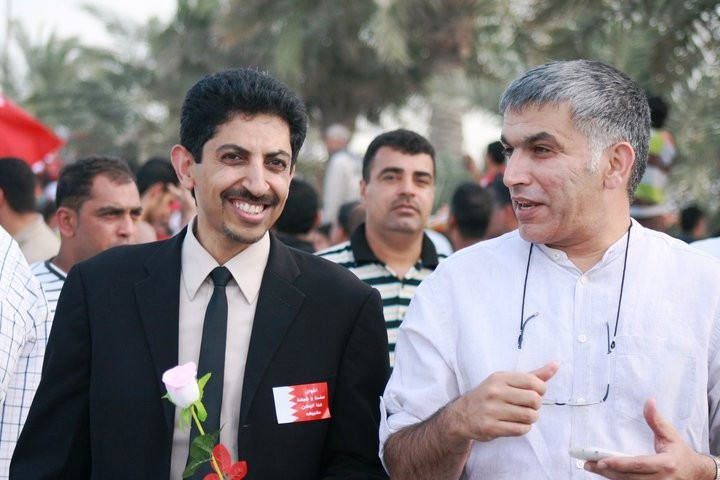 Nabeel Rajab, head of the Bahrain Centre for Human Rights, has been arrested again by Bahraini authorities after tweeting a comment that criticised the Gulf nation's ruling caste.
His lawyer, Mohamed al-Jishi, said Rajab was arrested for allegedly insulting residents of a Sunni-dominated neighbourhood for its close ties with the al-Khalifa family.
He will be held for seven days.
The activist was released on bail last week after three weeks in jail. He was arrested on 5 May at Manama airport after returning from a conference in Beirut, Lebanon. He still faces charges of "inciting illegal rallies and marches online by using social networking website", after he said the interior ministry had failed to investigate attacks against Shia protesters and Shia-owned businesses.
Rajab took part in Al Jazeera's The Stream discussion programme on Monday. After his arrest, many fellow activists cited his interview with the broadcasting company, in which he claimed the regime was not serious about implementing reforms in Bahrain, as the real reason behind the detention.
"Direct reason for @NABEELRAJAB arrest is his talk w/ AlJazeera," tweeted human rights defender and blogger Yousif Almuhafda. "Mohammed Hasan was investigated - it confirms the programme annoyed the regime."
Hasan, a Bahraini blogger, said that after his own tweet appeared on The Stream he "received an order to go to the Bahrain intelligence agency".
"@NABEELRAJAB was arrested after he spoke on Aljazeera saying he did not think the regime was serious about reforms #bahrain," tweeted Zainab al-Khawaja, daughter of the jailed human rights activist Abdulhadi al-Khawaja, who recently ended his hunger strike after 110 days.
The contentious episode also featured Fahad Albinali, media spokesperson at the Information Affairs Authority.
The Al Jazeera presenter asked him to guarantee that Rajab would not be censored or arrested for what he said during the programme.
"Have they been arrested or censored in the past 15 months?" said Albinali. "They wrote open articles on the New York Times. To assume or consider there could be consequences regarding the expression of an opinion is absurd."
The Bahraini government recently ratified a set of constitutional reforms following an inquiry into human rights abuses against protestors calling for reforms. King Hamad and the government said they were committed to dialogue with the opposition.
According to the Bahrain Centre for Human Rights, more than 100 people were arrested for protesting against the government in April.