Narendra Modi is Among The Top Five World Leaders on Twitter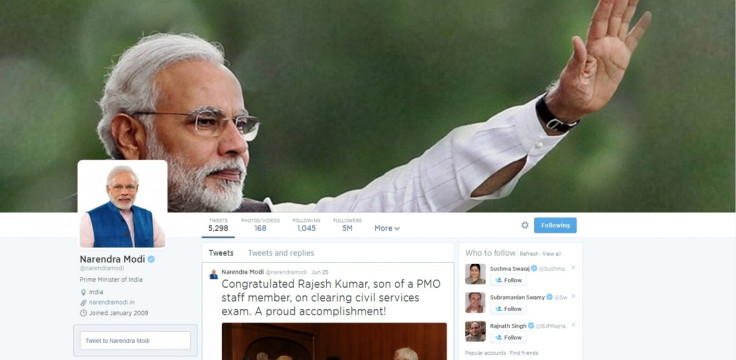 India's Prime Minister Narendra Modi has become the fourth-most followed world leader on Twitter, with 5 million followers.
Modi's Twitter account, @NarendraModi surpassed the United States White House account, @WhiteHouse, which had 4,980,207 followers on Wednesday, reports The Indian Express.
Modi is using Twitter as a power tool to broadcast his messages, according to Twiplomacy - an annual global study of world leaders on Twitter by PR firm Burson-Marsteller.
"I am a firm believer in the power of technology and social media to communicate with people across the world", Narendra Modi wrote in his inaugural message on his new website.
Within weeks of his election in May 2014, the @NarendraModi account has moved into the top five most followed Twitter accounts of world leaders with close to five million followers.
The Twiplomacy 2014 study also reveals that Modi is the second-most followed Asian leader on Twitter, but is not very well connected with Asian leaders, in terms of mutual peer connections.
"This study illustrates that while the number of followers is important, the number of mutual connections is even more important", said Jeremy Galbraith, CEO of Burson-Marsteller Europe, Middle East and Africa and Global Chief Strategy Officer.
"It is interesting to see how foreign ministries have created large digital networks on Twitter where not every tweet is approved by lawyers and press officers. Corporations and CEOs can learn a lot from politicians on Twitter, in terms of embracing digital tools for communications and how to connect with peers and influencers," he added.
Released on Wednesday, the study also revealed that more than 83% of all United Nations governments have a presence on Twitter, and two-thirds (68%) of all heads of state and government have personal Twitter accounts.
© Copyright IBTimes 2023. All rights reserved.