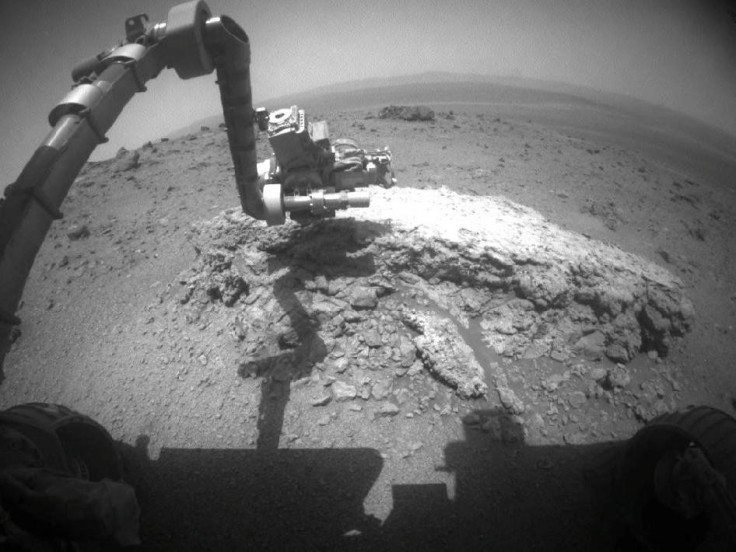 While exploring the recently reached Endeavour crater NASA's Mars rover Opportunity has discovered new evidence suggesting the red planet once contained water, one of the essential building blocks of life.
The Opportunity rover arrived at the 14-mile-wide Endeavour crater in August, 2011. It made the discovery while examining the informally named "Tisdale 2," rock. A flat-topped "footstool" shaped rock, Tisdale 2 lies at the heart of a small tennis court sized crater at Endevour's rim.
Atypical of most rock formations seen on Mars' surface NASA had the Opportunity examine the rock using its robotic arm, microscopic imager and panoramic camera.
The rover's findings indicated that the rock may date from an early point in Mars history. The data suggested that Tisdale 2 originated from a period in the red planet's history when its surface contained clay minerals. NASA went on to state that such minerals could only form in "wet conditions, possibly more favorable for life."
In its subsequent statement NASA indicated that the "diversity of fragments" found in Tisdale 2 could later reveal yet more minerals previously undiscovered on Mars.
"This is different from any rock ever seen on Mars," commented Steve Squyres, principal investigator for Opportunity at Cornell University in Ithaca, N.Y. "It has a composition similar to some volcanic rocks, but there's much more zinc and bromine than we've typically seen. We are getting confirmation that reaching Endeavour really has given us the equivalent of a second landing site for Opportunity."
The Opportunity's discovery adds to a series of recent breakthroughs suggesting water and by consequence, rudimentary life could have existed on Mars.
Most recently NASA's Mars Reconnaissance Orbiter (MRO) has discovered evidence that warm, salty water may flow across Mars during its warmest months. The discovery came after the Orbiter recorded images and video footage of "finger-like" formations and features running down a number of Martian peaks.