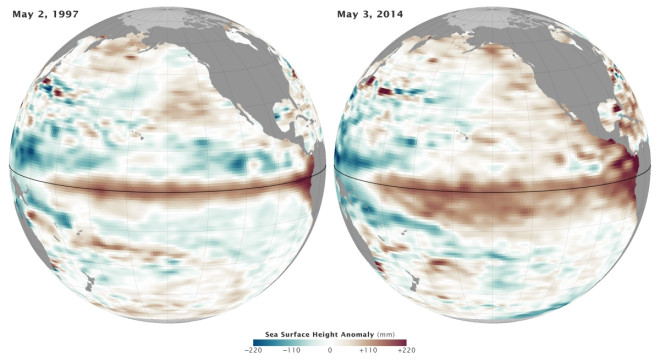 El Nino conditions appear to be developing in the Pacific Ocean, with satellite data bearing strong similarities to those seen in 1997 – the year that brought one of the worst El Nino events of the 20th century.
Data from Nasa's ocean-observing satellites show the ten-day average of sea surface height on 2 May 1997 and 3 May 2014, with shades of red and orange showing where the water is warmer and above normal sea level.
Blue and green shades show areas where sea level and temperatures are lower than normal. White areas show normal sea levels.
In March, Australia's Bureau of Meteorology warned an El Nino weather event was likely, with the bureau estimating a 70% risk. It said it would develop as early as July.
During El Nino, easterly winds in the Pacific allow for huge waves of warm water to drift across the Pacific towards South America.
Surface waters in central and eastern Pacific become much warmer than normal, resulting in altered weather patterns that affect fisheries and can lead to droughts.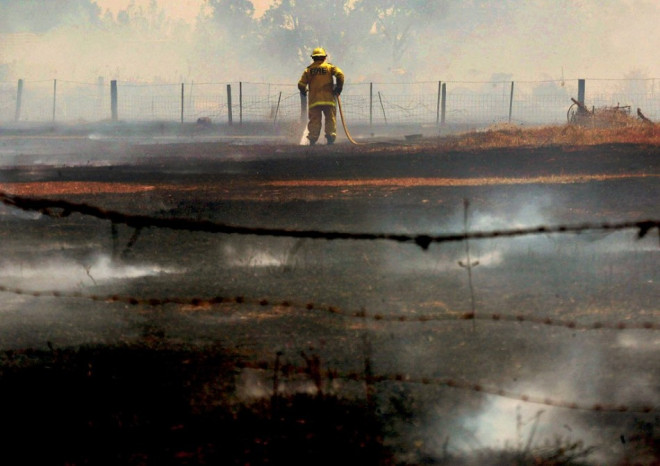 Eric Lindstrom, oceanography programme manager at Nasa, said: "What we are now seeing in the tropical Pacific Ocean looks similar to conditions in early 1997. If this continues, we could be looking at a major El Nino this fall. But there are no guarantees."
The El Nino of 1997-98 was one of the strongest events observed. North America experienced one of its warmest and wettest winters on record, while Central and South America had devastating rainstorms and flooding.
There were also huge droughts in Indonesia and parts of Asia. In total, around 2,000 people were killed because of extreme weather caused by the event.
Commenting on the risk of an El Nino this year, Bill Patzert, a scientists at the National Weather Service, said: "There remains uncertainty as to exactly when El Niño will develop and an even greater uncertainty as to how strong it may become.
"If El Nino returns, the American West and Southwest could see major relief next winter from the long-lasting, punishing drought. Further, the very frigid winter in the upper tier of the US this past winter could do a flip to mild next winter."