A mobile launchpad built by Nasa for a Space Launch System (SLS) rocket will be used only once, in spite of its steep, nearly $1bn (£720m) price tag. It was built to launch the Ares 1.
Called the mobile launcher (ML), the structure was found to be leaning, but the space agency reports that there is no need for modifications and that the main tower is structurally sound. A report by Nasa spaceflight mentions that construction of the ML began nearly ten years ago and that it was built to be a lot lighter than the mobile launch platform (MLP) that was previously used for Space Shuttles.
In order to understand just how much time and money has been pumped into this project, the US Government Accountability Office has released a few key figures, Ars Technica reports. The ML was supposed to cost $54m (£38.8m), but between 2012 and 2015, Nasa spent $281.8m (£202m) revamping it, with work still not complete.
A budget proposal to the White House shows that Nasa was planning on spending an additional $396.2m (£284.7m) on the ML from 2015 until the maiden launch of SLS, which is slated to happen in 2020.
In all, the space agency will have spent $912m (£655m) on a launch pad that will most likely be suitable for only one launch. Also, they took eight years modifying a structure that was built in two.
A report by Nasa spaceflight mentions that girdles and trestles of the ML were brought to the Kennedy Space Center and construction formally began in February 2009. After the base platform was finished, it was light enough for Nasa's modified Crawler Transporters to carry and move. It was a platform that was to be mated to a fixed tower that hosts "an array of umbilical connections and access for engineers and astronauts", notes Nasa.
Through the years, a lot of modifications including safety measures like the Emergency Egress System (EES), a roller coaster-like mechanism that was made to help cart engineers and astronauts out and far away from the launch pad in case of any accidents with the launch vehicle. This concept was introduced by a team of engineers including minds from Disney.
The SLS programme brought the ML back into the limelight, but extensive redesigns were necessary to accept SLS rockets which are a lot different from the Ares 1 which had only one single solid rocket booster. SLS rockets will run four RS-25 engines and two Solid Rocket Boosters.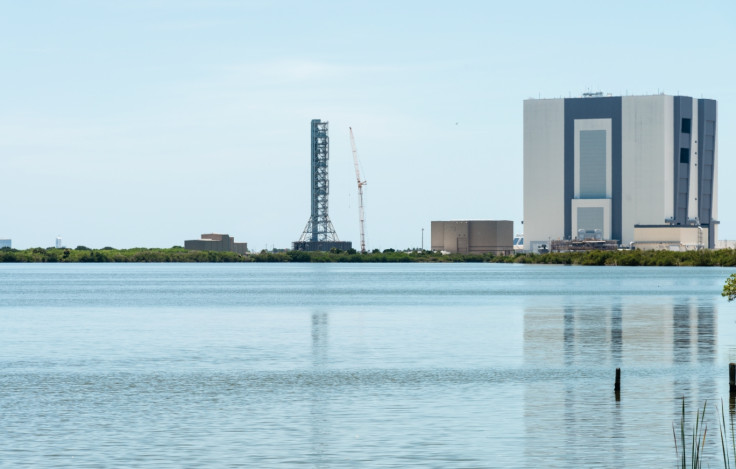 Extensive modifications on the ML and a lot of delays later, it was found to be leaning. "Nasa's mobile launcher is structurally sound, built to specifications, and does not require a design change or modifications. As expected, the mobile launcher is not perfectly still," a Nasa spokesperson said in a release.
"Throughout the installation process, the construction contractor has regularly taken laser survey measurements of the tower to ensure it meets critical system tolerances where the rocket and spacecraft will interface with the mobile launcher."
Deflections and leaning are in no way connected to the delays caused or to the modifications that the ML has undergone, said the spokesperson, adding: "There are also several natural effects that can influence movement of this gigantic steel structure, including wind, temperature, and vibration during the move on the crawler transporter..."
"All our predictions and actual measured deflections have been in agreement, which indicates we have a solid understanding of how much the mobile launch tower naturally moves, and confirms no 'corrective actions' are required."
Nasa has previously asked the government to stop switching between missions and directions after every change in administration.