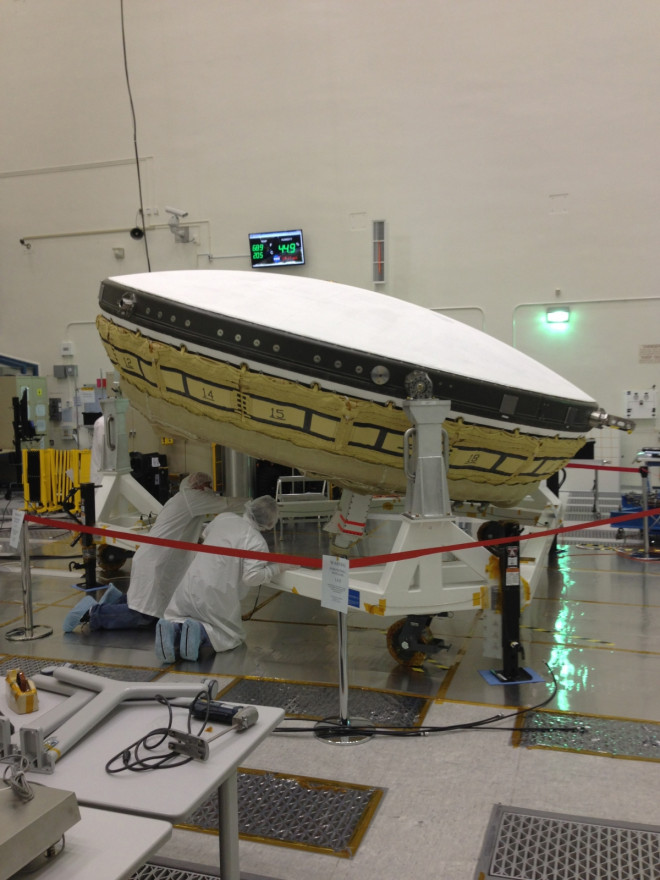 A flying saucer developed by Nasa is ready for its experimental test flight, scientists have said.
Located in the US Navy's Pacific Missile Range Facility in Hawaii, the Low-Density Supersonic Decelerator (LDSD) project has been developed to investigate technologies that will help future missions to Mars, including manned voyages.
The unmanned test flight of the rocket-powered vehicle will take place on 3 June. Mark Adler, LDSD project manager, said: "Our Supersonic Flight Dynamics Test Vehicle number 1 arrived at the Navy's Pacific Missile Range Facility on April 17.
"Since then, we have been preparing it for flight. One of the last big assemblies occurred on April 30, when we mated the vehicle with its Star-48 booster rocket."
During the test flight, a balloon will carry the saucer from Hawaii to an altitude of 120,000 feet, where it will be dropped. The booster rocket will then be kicked in and it will be flown to 180,000 feet.
Once at this height, the saucer will begin a series of tests on two technologies designed for Mars missions.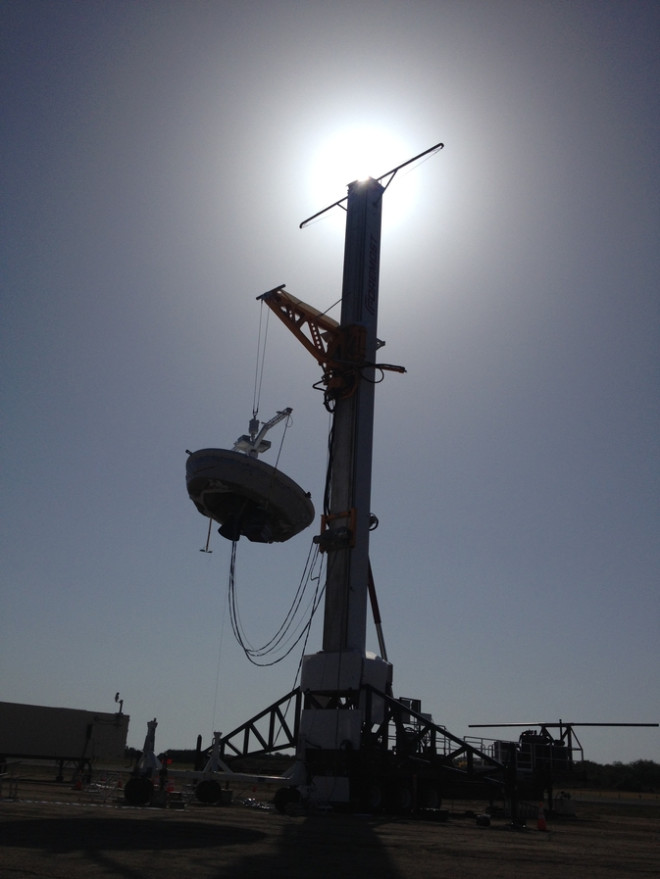 New technologies are essential if mankind is to reach Mars due to the long-duration of missions.
The upper layers of Earth's stratosphere are the most easily accessible environments available to match the thin found on atmosphere on Mars, therefore are most effective at testing new technology.
LDSD principal investigator Ian Clark said: "This first test is a true experimental flight test. Our goal is to get this first-of-its-kind test vehicle to operate correctly at very high speeds and very high altitudes."
Nasa said there is no guarantee the test flight will be successful. If not, it has two more flying saucers currently being prepared for more tests planned next year.
"We are pushing the envelope on what we know," said Clark. "We are accepting higher risk with these test flights than we would with a space mission, such as the Mars Science Laboratory. We will learn a great deal even if these tests, conducted here in Earth's atmosphere at relatively low cost, fail to meet some of the mission objectives."
The test flight will be streamed live online at Nasa Television at around 5.45pm GMT.
A news conference before the event will also be streamed, with panellists including US Navy Captain Bruce Hay, Mike Gazarik, associate administrator of the Space Technology Mission Directorate at Nasa Headquarters and Mark Adler, LDSD project manager. The conference can be viewed below from 7pm GMT.