Nate Diaz claims he has no interest in fighting Conor McGregor a third time and will probably sit out the year.
Diaz last fought in the octagon in a majority decision loss to the Irishman at UFC 202 in August 2016 and having maintained that he will only return to fight someone big or in a bout that would earn him $20m (£16.2m), the 31-year-old does not look likely to compete in the near future.
UFC president Dana White claims fight offers have been made to Diaz, however, the Stockton native, who presumably wanted to complete a trilogy with McGregor, later blasted him for "making s**t up about him."
Diaz has now come out and proclaimed that he was never waiting for McGregor.
"For one, I never ever said I was waiting for a third fight with Conor McGregor," he said on The MMA Hour. "I never said that. People think what they wanted and said that I wanted another fight with Conor. I already whipped Conor's f*****g a**. He should want a fight with me. I gotta light a fire up under his a**?"
Diaz also went as far to say that he was robbed at UFC 202, claiming that the company made McGregor win and that he was the real champion for defeating the 28-year-old.
"Conor is a f*****g b***h," he added. "He f*****g got his a** whooped, he got choked. And now he's justifying it because the decision went to him because the company wanted it to go to him. If I get my f*cking ass whooped by somebody, I don't just win a slight decision and then accept it as a win. So the real champ is right here."
"I'm the two-time world champ, because I whipped his f*****g a** after he fought Jose Aldo and I whipped his a** right before he fought Eddie Alvarez. And he knocked these guys out and everybody seems to have forgot what happened. It just went away?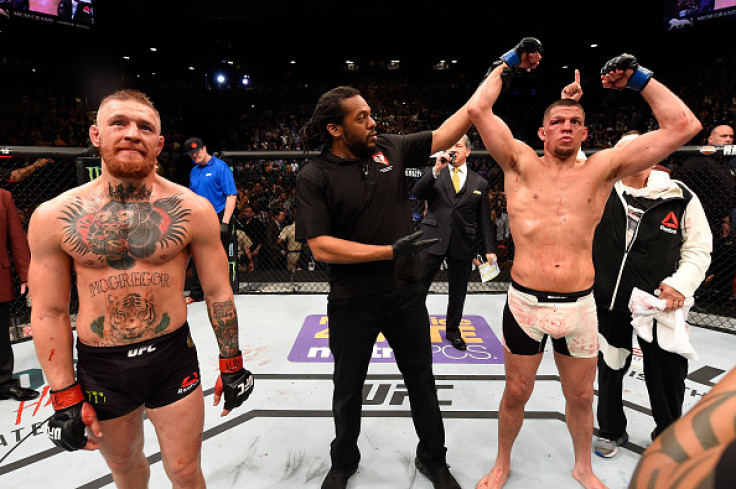 "I don't want a f*****g third fight," Diaz said. "F**k Conor. He can f*****g fight himself."
It's not just McGregor either as Diaz does not plan on fighting until 2018: "I plan on sitting out this year."