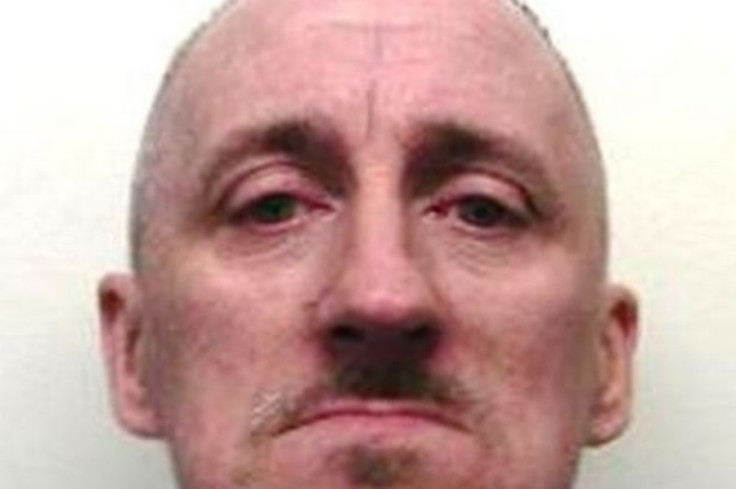 A national manhunt is underway to find a convicted murderer who has absconded from a bail hostel in Greater Manchester. Mark Anthony Ryder, 46, was sentenced after he shot dead love rival Stuart McCue, 25, in Brighton in 1993, in front of the victim's girlfriend, two teenage nieces and two other children.
Ryder, who has a distinctive cross tattoo on his forehead, was jailed for 15 years for the murder but had been living in a bail hostel in Greater Manchester after his release on licence, reportedly in June 2016.
It is not immediately clear as to what day he went missing as officers say he was missing from the hostel when they went to check at the weekend of 24-25 September, 2016.
The former market trader had escaped from prison twice before. According to police, he was on the run from Lewes prison, East Sussex, where he had been serving a sentence for car theft implemented in 1992, when he shot dead McCue with a sawn-off shotgun outside a social club in Whitehawk, Brighton.
Ryder was jailed in 1993, but absconded again 12 years into his sentence when he evaded prison guards while on an escorted trip to a Cambridge shopping centre. Ryder was eventually caught by police in Malaga, Spain, and returned to the UK.
His probation is managed by Hertfordshire Police who are leading the national manhunt to find Ryder, which launched on Wednesday 28 September, notifying all ports and constabularies across the country. Police have warned members of the public not to approach him, but to call 999 immediately.
Ryder is said to have links to Brighton, Sussex and Greater Manchester and has the words "love" and "hate" tattooed on his knuckles, plus a dagger on his left arm.
A spokesman for Hertfordshire Police said: "Mark Anthony Ryder, 46, who has links in Brighton and Sussex and also Greater Manchester, is wanted on a recall to prison for failing to comply with conditions of his licence. If you see him, do not approach him. Please call police on 999."