Obama's Exit Plan from Afghanistan 'Threatened' by Pakistan and France [VIDEO]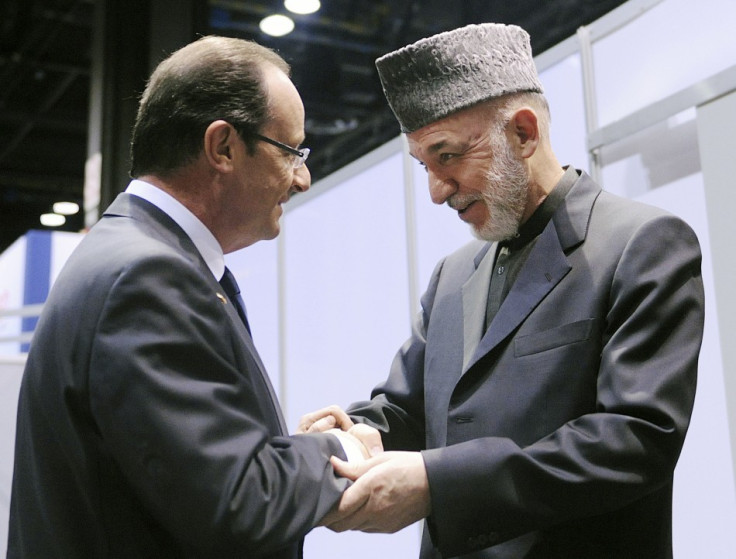 World leaders were split at a Nato summit in Chicago over France's decision to withdraw its troops from Afghanistan and a rift between the United States and Pakistan.
President Barack Obama's hopes for an orderly withdrawal from the country may have evaporated after the election of Socialist candidate Francois Hollande as French president, who had campaigned on the pledge of pulling all French troops out of Afghanistan in 2012.
"We went into Afghanistan together, we want to leave Afghanistan together," German Chancellor Angela Merkel said.
Obama insisted that the fighting coalition will remain effective, but had a more diplomatic tone. "We still have a lot of work to do and there will be great challenges ahead. The loss of life continues in Afghanistan," he said.
Diplomatic relations between Obama and Pakistani President Asif Ali Zardari have deteriorated following a row over supply routes to Afghanistan. Pakistan closed the routes after a US airstrike killed two dozen Pakistani troops in November.
Obama has declined to meet with Zardari in Chicago.
But General John Allen, the US commander in Afghanistan, told reporters at a briefing that he had indications of Islamabad's interest "in entering into negotiations".
"I can't tell you when that will occur - obviously sooner is better than later," he said.
A Pakistan presidential spokesman said Zardari told US foreign secretary Hillary Clinton that he wanted "to find a permanent solution to the drone issue, as it not only violated our sovereignty but also inflamed public sentiments due to innocent civilian casualties".
The US uses drone attacks on suspected al-Qaida and Taliban members.
Obama and Afghanistan President Hamid Karzai met ahead of the Nato talks, with the two of them agreeing that the end of the war is close at hand.
Nato countries are expected to sign off Obama's exit strategy, which calls for an end to combat operations next year and the withdrawal of troops by the end of 2014.
Meanwhile, Anonymous has attacked and taken down the websites belonging to the city of Chicago and the Chicago police in solidarity with anti-Nato protesters.
The main portals for the city of Chicago and the Chicago police department were unavailable due to the DDoS attack.
Thousands of people marched through downtown Chicago at the weekend to voice their anger about war, climate change and other complaints against world leaders gathered for a Nato summit.
Protesters included peace activists, war veterans and members of Occupy Chicago.
The protests resulted in 45 people being arrested and four officers suffering injuries.
© Copyright IBTimes 2023. All rights reserved.