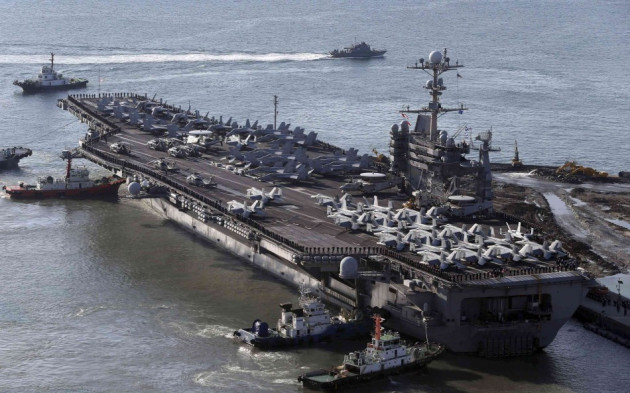 The US Federal government has barred a Singapore-based company involved in a Navy bribery scandal from doing business with it, and suspended all of its previously-granted contracts.
An anonymous navy official told Reuters that Glenn Defense Marine Asia (GDMA) and its CEO, Leonard Glenn Francis, were prohibited in September from taking government contracts and receiving benefits under federal assistance programmes.
The federal government also terminated nine Navy contracts worth $205m (£127m, €150m) awarded to GDMA.
In September, Francis was accused in a US district court of bribing government officials to get secret details about navy contracts. US officials also detained Navy Commander Michael Misiewicz and Naval Criminal Investigative Service (NCIS) agent John Beliveau, on charges of conspiracy in a bribery scheme.
If convicted, all three will have to serve a maximum of five years in US federal prison.
The company was serving as US Navy's chief husbanding agent in the Pacific Rim, organising logistics such as tugboats, security, fuel, waste removal and other services.
Navy Bribery Scandal
Earlier, US federal investigators exposed a massive overbilling scheme run by GDMA, providing prostitutes and other kickbacks to top navy officials in return for top-secret information about defence contracts.
The Singaporean company was accused of overbilling the government for services such as tugboats, fuel and sewage disposal.
GDMA CEO Francis and another company official were arrested in September at a San Diego harbourside hotel in a sham meeting arranged by the investigators.
Misiewicz was taken into custody in Colorado and was charged with taking bribes in the form of paid travel, prostitutes and Lady Gaga concert tickets from GDMA. In return for the bribes, Misiewicz had allegedly sent Francis classified information.
Beliveau was arrested in Virginia on charges of downloading confidential reports about a Federal probe into GDMA from the NCIS database and leaking the information to Francis. Francis had provided Beliveau with travel, entertainment, prostitutes and other gifts in exchange for the information.