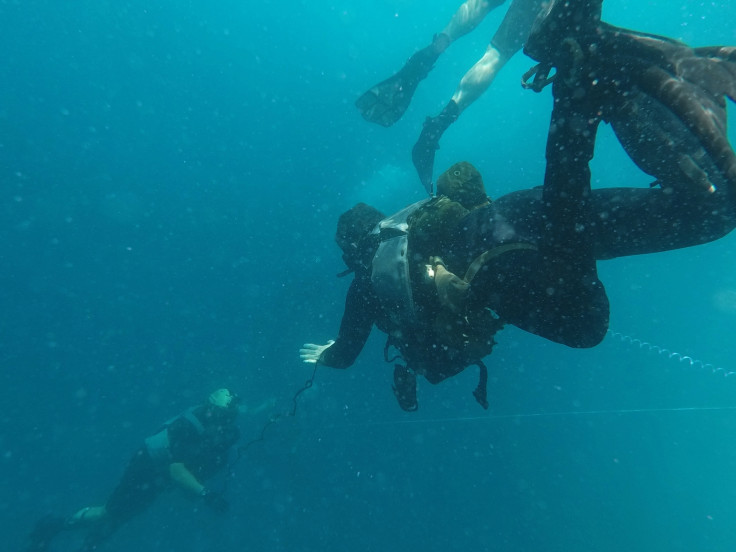 US Navy Seals were spotted training in an area off a Greek coast using interesting tech that included magnetic climbing gear as well as modified jet skis. Images of the training that took place in October 2017 were uploaded to the Defense Video Imagery Distribution System (Dvids) site earlier this week.
The training was undertaken as part of Greece and US Special Operations Forces' (SOF) partner development training mission. The training reportedly happened off the Greek coast near the island of Crete.
As operations in the Middle Eastern theatre have started to wind down for the Navy Seals who have so far been concentrating on land-based warfare post 9/11, the new and emerging threat of North Korea has moved the Seals back to the sea, notes a report by Popular Mechanics. Climbing gear and water crafts as seen in the images could be used to inspect or take over smuggling ships and other North Korean vessels, it adds.
The images reportedly show a Navy Seal scaling the side of a destroyer with ease using magnetic climbing gear. The hull of the destroyer, made completely of metal, can be used with magnetic gear, which in this case, is the Rebs Magnetic Climbing System. Rebs consists of a pair of hand grips and magnetic shoes which can be used to effectively climb sheer surfaces like the sides of a ship. This system, claims its makers, can even be used by divers to emerge out from the water and directly on to the side of a ship.
The images show Seals using various means to board a ship, including magnetic climbing gear, divers swooping in around the vessel as well as making use of a personal watercraft – jet ski.
Jet skis are known to be loud and obnoxious, but also incredibly fast and agile in water, so in cases where Seals are not looking to be covert and noise levels do not really matter, such jet skis could come in handy, notes the report.
The jet skis used in the training were identified as the popular Yamaha FX Cruiser SHO version modified to be more tactical. The modifications include an inflatable SkiCollar attached to the back of the craft which is expected to provide lateral stability, additional flotation and better shock absorption in case of choppy waters. In one of these crafts, it is estimated that up to three fully armed Seals could be transported at high speeds. The SkiCollar could make the journey a lot more bearable considering the stock version of such a jet ski has a 490 pound weight limit, notes the report.