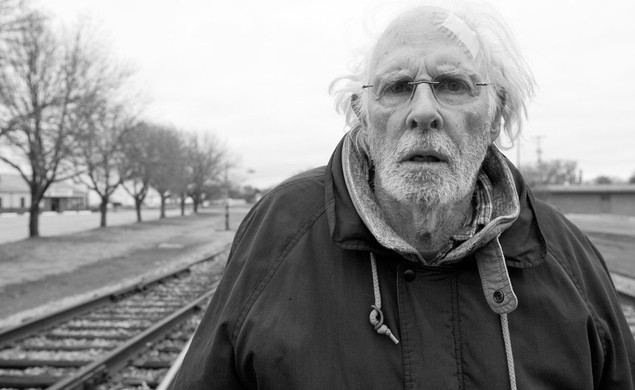 The road movie is a curiously American genre, full of films in which characters venture across the sparse Midwestern states trying to discover the meaning of their existence. In recent years director Alexander Payne has made the genre his own, with his new movie Nebraska forming part of a 'loser on a journey' trilogy along with About Schmidt and Sideways.
Instead of Jack Nicholson and Paul Giamatti, we now have venerable Hollywood actor Bruce Dern giving one of his greatest screen performances as Woody Grant, a senile alcoholic who after receiving a competition letter in the post stubbornly insists that he has won a million dollars and only needs to travel 900 miles to collect it from Lincoln, Nebraska.
The actor, whose daughter Laura Dern starred in Payne's debut feature Citizen Ruth, gives an assured performance as Woody, an irritable and cantankerous man of few words. Speaking of him his tenacious wife Kate (June Squibb) acerbically quips: "You know what I'd do if I won a million? I'd put him in a home."
Will Forte is alongside him as son David, a meek loser like his dad not content with his lot but unsure what else he could get. Partly from a desire to get away from work and relationship woes, and partly a need to know more about his dad, he agrees to drive him on this fool's errand and in his own words, "let him enjoy his fantasy a little while longer".
Their journey is both a sweet and savage examination of family ties and American life, all caught in beautiful crisp monochrome by cinematographer and Payne regular Phedon Papamichael. Stopping on the way at rural small town Hawthorne, the trip takes us in to Woody's past as we meet relatives he hasn't seen for years and friends he'd soon rather forget.
Upon returning to his hometown, Woody, out of hurt pride, can't help but let everyone know of his jackpot, sparking a series of hilarious incidents in which various friends and family start circling like vultures around the old-timer in the hope of extracting some of the potential wealth.
Here we see the familiar awkward exchanges that Payne has become recognised for, as David gets to know the yokels that make up his relatives - people whose main interests are cars, sports and watching the TV in silence. It's a life that most people attempt to escape, and yet David seeks the romanticism of this world and the stories about his dad, from his role in the Korean War to his old flames before marriage.
After his last movie, the sanitised studio product The Descendants, it's great to see Payne stage a sort of indie rebellion, making a movie on his own terms that has his signature written all over it. But this is a trip we've taken before, and Payne's American odyssey this time is hampered by the hallmarks of the familiar.
The docile and depressed old man that Dern plays is an identikit of Jack Nicholson's character in About Schmidt, with the strained family/friend dynamic repeated throughout many of his works. Fans of Payne will delight in another dish of dry humour, but there's nothing new or surprising in Nebraska. A sideways step for the filmmaker - I can't wait to see him move forward with his next feature.
Nebraska is screening as part of the 2013 London Film Festival. The film will be released in UK cinemas nationwide from 6 December.
London Film Festival Reviews