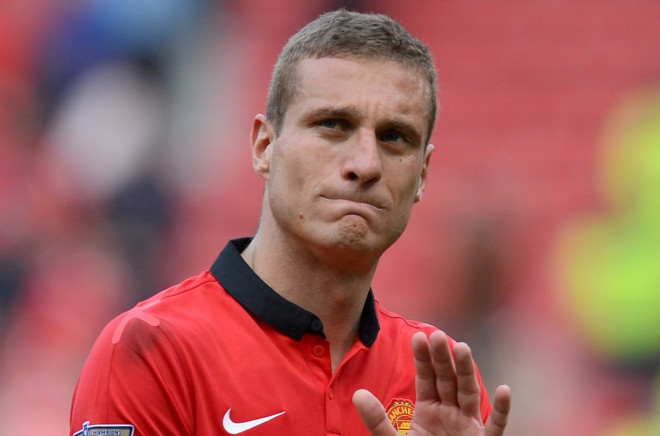 Manchester United captain Nemanja Vidic will bid farewell to club supporters in his final game at Old Trafford against Hull City on Tuesday evening.
Vidic will join Inter Milan in the summer after eight years at the club, during which time he has won five Premier League titles, three League Cups, the Champions League and the Club World Cup.
"I have no regrets," Vidic said. "I've given this club 100 per cent and my time at this club will always rank as the best part of my career. It has been a great eight years - or a great seven years because at the moment we are not doing so well!
"I never considered staying in England as the only club I ever wanted to play in this country is United and I have been lucky enough to be part of this club for so many years. I've got so many great memories. I never could have imagined winning 15 trophies, including five Premier League titles and the Champions League.
"I've played for the greatest manager [Sir Alex Ferguson] and I have learned a lot, not just on the pitch but off the pitch as well.
"Manchester United make you feel part of the family. It has been a great experience for me.I have developed as a man at this club.
The 32 year old is one of four players out of contract at United this summer, with defensive pair Rio Ferdinand and Patrice Evra and current interim boss Ryan Giggs yet to be handed new deals.
Ferdinand has made just 11 starts in the Premier League this season amid constant injury problems while Evra has been a near ever-present in the top flight this term having made 32 appearances.
With Louis van Gaal expected to be confirmed as the permanent replacement for David Moyes this coming week, Giggs' future at United both as a player and a coach is uncertain with the Dutchman expected to include international compatriot Patrick Kluivert is his backroom team.
The reaction of the trio during the annual lap of honour following the final home game of the season against Steve Bruce's Hull could give a strong indicator as to where their future lies at the end of the campaign.