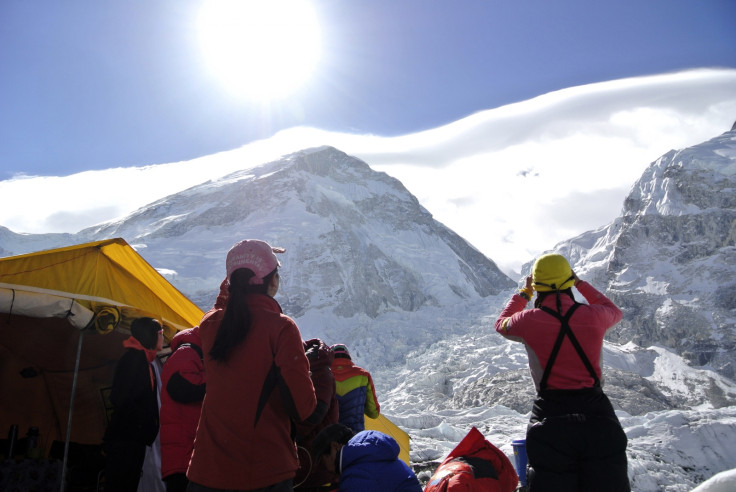 A Nepalese soldier has won the world's highest marathon in the snow-covered foothills of Mount Everest. Bed Bahadur Sunuwar took part, along with over 150 local and foreign runners, in the 14th edition of the Tenzing Hillary Everest marathon, which began at Nepal's base camp at 7.00am local time.
Runners from Britain, US, Australia and China too participated in the annual event, which was launched in 2003, to mark the anniversary of the conquering of the Everest by Tenzing Norgay and Edmund Hillary in 1953.
Winning in his very first attempt, 29-year-old Sunuwar completed the 42km full marathon run in four hours and 10 seconds, ending 2,000m further down the slopes.
"The route is very challenging but amazing too. I feel proud to be the winner," the BBC quoted Sunuwar as saying.
The air at base camp contains only half as much oxygen as at sea level, which left many runners gasping for breath on even the slightest incline along the narrow, rocky mountain paths.
Robert Celinski, a runner from Poland, said: "It is a difficult and exciting race at this altitude. My muscles will hurt once the adrenaline wears off." The marathon is the fourth race the 43-year-old has taken part in. "The Nepali runners are very good. But next year, I hope to win."
The Himalayan region's successful marathon comes as a respite from tragic reports about climbers dying due to altitude sickness during attempts on the summit. It has been hailed as a further sign of recovery after two years of successive disasters that struck the country during its peak mountaineering season.
"The earthquake dampened the race last year, but we have seen a significant increase in the number of participants this year," organiser Bikram Pandey said.
Besides, the death toll of this season has risen to four, as officials found another Indian climber's body who was reported to have gone missing on the upper slopes of the Everest on 27 May. The series of tragedies began on 19 May when a Sherpa died while he was trying to fix ropes for the trek near the summit.
As the spring season for mountaineering comes to a close, nearly 30 climbers are reported to have suffered either frostbite or become seriously ill on the peak due to altitude sickness, the BBC reported.