At least three climbers on Mount Everest have been killed, while two more are reported missing and four barely escaped with their lives, in a bleak trekking stretch on the world's highest peak. Both of the missing climbers are of Indian origin and haven't been seen for more than a day.
The series of tragedies began on Thursday (19 May) when Phurba Sherpa, 25, fell to his death while he was fixing ropes for other climbers near the summit.
Eric Arnold, 36, a Dutch triathlete from Rotterdam, died the following day on his way down - after a successful summit of the mountain peak - from altitude sickness. He had bottled oxygen with him, and was climbing alongside partners, but he complained of getting weak, CBS News reported.
Chillingly, in a recent interview with a Dutch radio station, Arnold talked about the risks of descent from a mountain like Everest. "Two-thirds of the accidents happen on the way down," he said. "If you get euphoric and think 'I have reached my goal,' the most dangerous part is still ahead of you."
Another climber in Arnold's group — Australian woman Maria Strydom, 34, who was trekking with her husband — had to turn back "within touching distance" of the summit and died just hours later the next day from altitude sickness. "She could not resist any more her weakness and she stopped breathing right there," Furtengi Sherpa, the operational manager of Seven Summit Treks, told the Sydney Morning Herald.
She had already climbed Mount Denali in Alaska, Mount Aconcagua in Argentina, Mount Ararat in eastern Turkey and Mount Kilimanjaro in Africa. Strydom's veterinarian husband, Rob Gropel, is reportedly in critical condition with congestive heart failure, after he was taken down the mountain by sled with pulmonary oedema.
The two were attempting to climb the seven highest peaks, based on seven continents, according to the web site for Monash Business School, where Strydom was a finance lecturer.
One of the rescues involved a woman who was descending the mountain with another team when she suffered severe frostbite. Seema Goshwami, of Indian descent, had suffered frostbite to her hands and feet and was unable to move.
Sherpas carried Goshwami from the top camp at nearly 26,240 feet, to lower altitude camp two, where she was airlifted by helicopter, said Pemba Sherpa of the Seven Summit Treks agency in Kathmandu. "It took a big and risky effort but we were able to save her," he said.
Two others rescued - including 45-year-old Norwegian woman Siv Harstad and an unnamed Iranian man — were reported to be suffering from severe illness and snow blindness.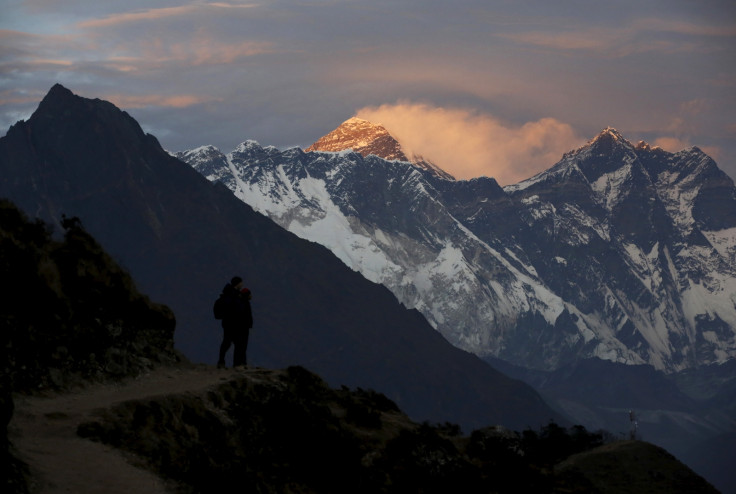 Dozens of climbers have been taken ill, and four Sherpas are currently stranded at the top camp, according to base camp officials. Most of the sick climbers suffered frostbite while attempting to reach the summit or on their descent.
The bodies of the dead climbers are yet to have been recovered, and it may be some time before family members or supporters are allowed to undertake the mission because of the risks involved. Carrying bodies down Everest takes at least eight Sherpas.
Weather on Everest can turn deadly in an instant, and one misstep can often prove to be fatal. The day before Phurba Sherpa fell to his death, dozens of climbers were forced to to descend to lower camps due to high winds.
Even in the best conditions, deadly altitude sickness can strike climbers, affecting the brain and lungs, especially above 26,250 feet (8,000m). Everest's top peak is over 29,030 feet (8,850m).
Professional climber Cory Richards called it 'the death zone' in an interview on CBS, saying: "As you go higher your body just simply can't regenerate. And every minute spent above that altitude puts you - without trying to be too dramatic here - puts you closer to death. The margin for error drops to zero."
The recent news of deaths are the first to occur on Everest so far in 2016. The mountain was virtually empty for two years, following a devastating ice avalanche in 2014 that killed 16 Sherpas, and a 2015 avalanche, triggered by the Nepal earthquake, that killed 22 people.