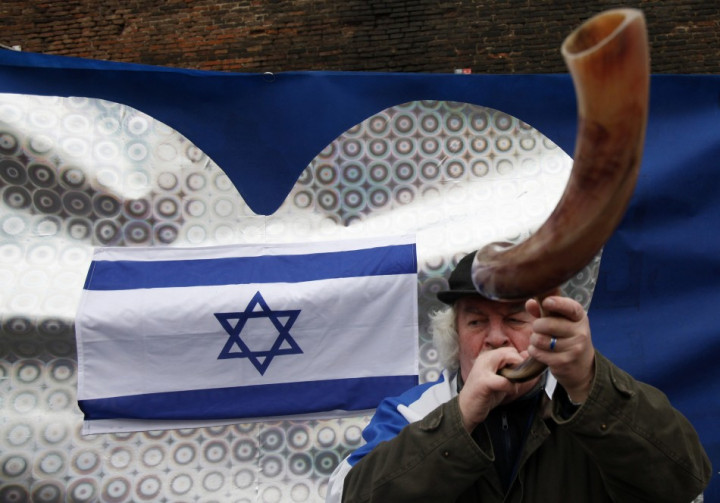 Israeli prime minister Benjamin Netanyahu will tell European leaders that Israel has the right to respond to Palestinian "provocation".
He repeated his stance at the National Public Diplomacy Forum that Operation Pillar of Defence (the recent operation in Gaza) was over Israel's right to exist.
"We left territories we took during the Six Day War, such as Gaza, and they fire rockets on us," he said. "The root of the conflict is not the settlements, not the territories, it is the very existence of Israel and their desire to wipe us off the map."
Netanyahu was in Germany to dine with chancellor Angela Merkel and fend off criticism over his plan to build 3,000 houses in the West Bank and East Jerusalem - regarded as retaliation for the UN vote to grant Palestine non-member state observer status.
Five European countries including Britain have formally protested about the building plan.
An official in Netanyahu's office said: "There will be no change in the decision that has been made."
Israel will also revisit plans to build 1,700 homes in Ramot Shlomo in east Jerusalem and another 2,600 in Givat Hamatos.
An Israeli paper, Yedioth Ahronoth, quoted Israeli diplomats saying that the US president Obama was the first person responsible for the outcry that greeted Netanyahu's settlements announcement.
"We would not be mistaken to say that Europe was acting with Washington's encouragement," the paper's commentator, Shimon Shiffer, wrote. "The White House authorised Europe to pounce on the Netanyahu government and to punish it."
Former US ambassador to Israel Dan Kurtzer said the Netanyahu plan was also a protest about a failure by Obama to endorse a previous US-Israeli deal that many settlements would remain, regardless of a peace agreement.
"It wasn't just retribution at the UN, it was retribution at the US as well," he told Haaretz newspaper.
Arab east Jerusalem cut off
The Palestinians, meanwhile, will ask the UN Security Council to demand an end to construction of 7,500 apartments and a number of hotels in two future settlements, known as E1 and Givat Hamatos, in the eastern and southern part of Jerusalem.
Critics say the settlements will cut off Arab east Jerusalem from the West Bank nd destroy hopes of a two-state solution.
''If the Israelis build E1 and Givat Hamatos, it means the idea of peace, the idea of a two-state solution, will disappear,'' Saeb Erekat, senior aide to Palestinian president Mahmoud Abbas, said.
''If the US can stop the Israelis without the Security Council, they should do it,'' he said. ''They [the Americans] cannot stop us and use the veto against people trying to save the peace process.''