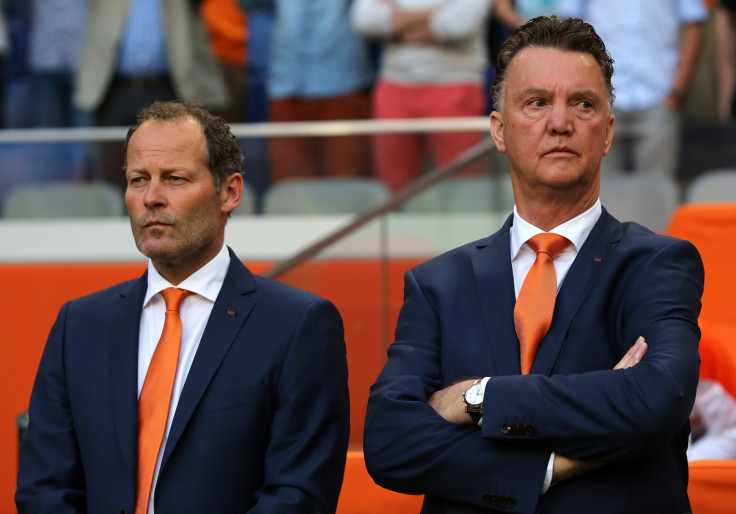 New Netherlands coach Danny Blind has revealed he turned down an offer to join Louis van Gaal's coaching staff at Manchester United.
Blind, father of United midfielder Daley, was named as Guus Hiddink's successor this week after the veteran coach resigned in the middle of a disappointing European Championship qualifying campaign.
Van Gaal, who left his post with the Dutch national team take the reins at Old Trafford last summer, brought with him three of his countrymen in Frans Hoek, Albert Stuivenberg and Marcel Bout as his assistants.
Blind, who served as Van Gaal's assistant at last summer's World Cup, also had offers to join the Dutch contingent in Manchester, but chose to focus on getting a role as head coach himself.
"I had a fantastic offer from Manchester United," he told Algemeen Dagblad.
"There were talks about United and Van Gaal a couple of times last year. But I rejected that. If you have ambition, what is more beautiful than becoming manager of your country?"
Netherlands have endured a disappointing qualifying campaign for Euro 2016 so far and their hopes of reaching France are uncertain, having won just three of their six games. Iceland top Group A with the Czech Republic currently occupying second place three points ahead of the Dutch.
"Do I feel confident about qualifying?" said Blind. "We know what we have to do: win four matches, starting with Iceland on 3 September. We can't afford to lose any more games. But with our quality we are more than able to do it."
Netherlands have already suffered defeats away to Czech Republic and at home to Iceland, while they were also held to a 1-1 draw by Turkey.
Their only wins in the campaign have come home and away to second-from-bottom Latvia, and bottom side Kazakhstan in October.