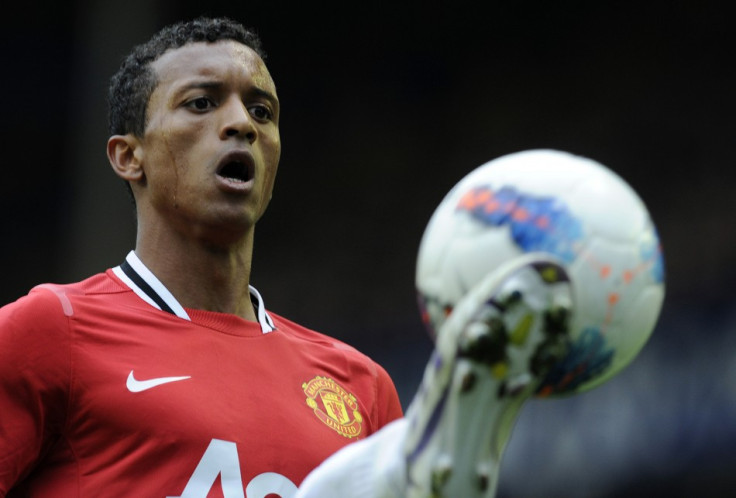 Manchester United will offer Nani a lucrative new contract in an effort to ward off interest from Juventus and Inter Milan.
The 24-year-old is currently on £90,000 a week but Sir Alex Ferguson, according to The Sun, is ready to increase the Portuguese ace's pay to £130,000 in order to bring him in line with senior Manchester United stars Nemanja Vidic and Rio Ferdinand.
The 24-year-old sill has 18-months left on his contract and talks are scheduled to begin at the turn of the year in an effort to tie the winger's best years to Manchester United.
Nani was the club's Player of the Year last season and although he initially struggled to adapt to Premier League football following his arrival from Sporting Lisbon in 2007, the Portuguese international has become an increasingly important figure at the club.
Such is the winger's rising stock in world football, Inter Milan, AC Milan and Juventus have all been monitoring the player, but Manchester United, who tend to begin talks over new deals within the last two years to 18 months, are eager to retain one of their most valuable assets.
The Manchester Evening News suggest Nani is yet to make his intentions clear in regards to his long term future at Old Trafford, intimating he may look for a new challenge when his current contract draws to an end.
Manchester United could command a transfer fee in excess of £30 million but will begin exploratory discussions with his representatives in January.
Sir Alex Ferguson recently put an end to the perpetual comparisons with Nani's compatriot Cristiano Ronaldo, claiming the recently shortlisted Ballon d'Or nominee deserves to be recognised in his own right.
"He is only in Cristiano Ronaldo's shadow because he is Portuguese. That's the only link I can see between both. He was never in Ronaldo's shadow in my mind." The Manchester United boss said.
"He has always shown to have a great potential, but some players take a bit longer to mature than others. Cristiano Ronaldo was an exception. He truly was an incredible footballer and he matured instantly from the time he joined Manchester United at the age of 18, until he left us for Real Madrid with 24 years old."
"He's a terrific player, the lad, and he's starting to mature. We're going to get the best years out of him, no doubt."
Nani's record in his first 100 Premier League games for Manchester United is actually superior to his heralded former teammate. The former scored 19 goals and contributed 33 assists, compared to Ronaldo's 19 goals and 12 assists.