Images of the upcoming MacBook Pro have been discovered inside Apple's own computer software. The discovery reveals a laptop with a touch-sensitive display at the top of the keyboard and in place of the traditional function keys.
The screen is shown to have a Touch ID fingerprint sensor on its right side, allowing users of the new MacBook Pro to make online purchases through Apple Pay, as they can do now on the iPhone.
The new MacBook Pro is expected to be officially announced at a media event hosted by Apple in California on 27 October.
The images were found hidden inside the company's latest Mac operating system, macOS Sierra version 10.12.1, and published by MacRumors.
Rumours have for some time claimed Apple's next laptop will feature the touch panel, which is a small OLED screen capable of displaying virtual buttons and a user interface which adapts based on what is shown on the main screen. The panel, dubbed "Magic Toolbar", is thought to offer volume and media control, as well as application-specific commands and tools.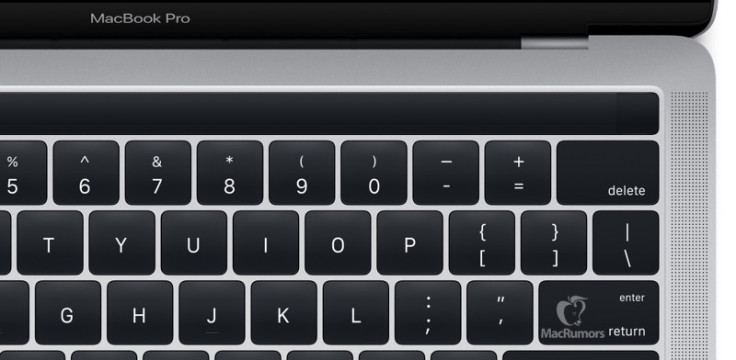 The leaked images give little else away about the new MacBook Pro, other than it appears slightly slimmer and more compact than the current model. The keyboard keys also seem flatter, possibly similar to those of the 12in MacBook. A pair of new speaker grills appear at either side of the keyboard and the MacBook Pro name is reinstated at the foot of the screen, having disappeared from recent models.
Although ports cannot be seen in the leaked images, rumours claim the new laptop will have four USB-C connections. These will allegedly replace the HDMI and MagSafe ports, as well as the SD card slot; mercifully, the headphone jack will remain.
Apple's press event begins at 10am local time (6pm BST) on 27 October and will be live streamed. Here's how to watch it and everything to expect.