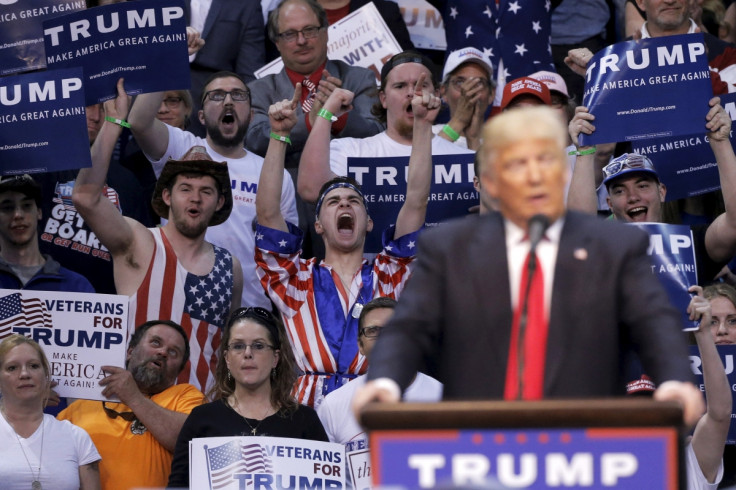 Republican presidential candidate Donald Trump may be on his way to clinching the GOP nomination, but general election polls continue to show he is not favoured to win the final prize in November. A new poll released on 25 April from Harvard's Institute of Politics showed just how poorly Trump is doing with a particular set of voters: millennials.
In a matchup against Democratic presidential frontrunner Hillary Clinton, Trump faired pretty poorly among 18- to 29-year-old voters. Among likely voters in that age range, 61% said they would vote for Clinton as opposed to 25% for Trump if the two were to face-off during a general election. Another 14% said they did not know who they would vote for.
The 36-point margin is four times the Democrat frontrunner has over Trump among all voters based on RealClearPolitics' average of hypothetical general election polls. The latest from USA Today/Suffolk University places Clinton ahead by 11 points, 50% to 39%.
The Harvard poll also revealed that among voters who rated fellow Democrat Bernie Sanders as "very favourably," 80% would support Clinton and only 6% would support Trump. The support is flipped for voters who rated Republican Ted Cruz as "very favourably" with Trump getting 69% support and Clinton only earning 12%. With those who rated Republican John Kasich as "very favourably," Trump and Clinton support is more equal at 42% to 30%.
The two candidates have very enthusiastic supporters, the poll found. Clinton voters are slightly more enthusiastic than Trump voters, 60% to 51%. More Trump voters, however, are unenthusiastic about their support for him at 49% compared to Clinton voters at 40%.
The two candidates will face their respective party rivals on 26 April in five states as they vie to clinch their party's nomination. Clinton and Trump appear poised to win in all five states, with varying leads in Connecticut, Delaware, Maryland, Pennsylvania and Rhode Island.