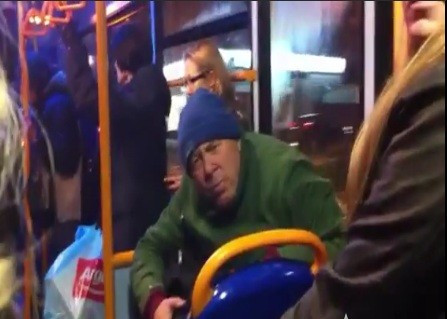 Another video of a racist rant - this time by a white man - has sparked global outrage within hours of being posted online.
The one minute clip which shows a man, who appears to be drunk, launching into a racist tirade against fellow passengers on board a London bus has gone viral.
In the tense scene on board the 314 to New Addington, he can be seen verbally abusing a black commuter, who is not in the shot.
The unnamed man yells aggressively: "You are not so tough now you black bastard.
"The only time that they are tough is when they have got knives and bullets." But failing to receive a response from his victim, he later screams: "You want war, I'll give you war." before breaking into an impromptu chorus of Edwin Starr's War (What is it Good for Absolutely Nothing)
"You are only ever tough when you are in numbers. I'm a man on my own but I could take the whole lot of you."
The video filmed discretely on a mobile phone is the latest in a string of racist outburst across the capital that have been caught on film and circulated by social networking sites.
One disgusted online user wrote: "See this can't happen in America..cause the wholllleee bus would got on him no matter what race you are"
While another commented: "Where are all these racist people coming from!?"
Emma West, 34, was arrested after she was filmed launching into a profanity filled racial tirade against fellow passengers on board a Croydon tram. The infamous video titled " My Tram Experience" went viral with hours of being uploaded on YouTube.
West later appeared in court and was subsequently remanded until January for her own safety due to receiving a number of death threats. She has since been allowed home on bail.
Watch the video here: