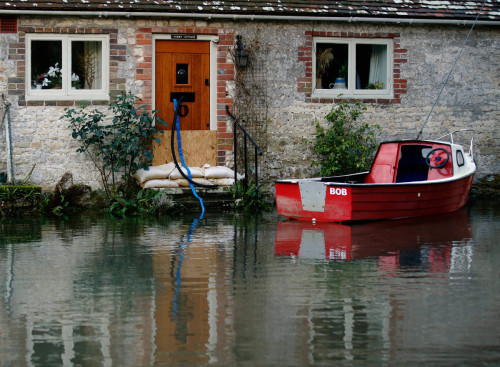 Waterlogged homeowners in parts of southern England are bracing themselves for further flooding on Saturday after heavy rainfall caused the river Thames to flood.
The Environment Agency has warned homeowners living along the lower reaches of the Thames to prepare for rising water levels.
After several weeks of heavy rain and flooding, further flooding is expected over the weekend in Oxfordshire, West Berkshire, Buckinghamshire and Surrey as recent rainfall flows downstream.
There are also risks of flooding along the river Parret in Somerset and the river Severn in the Midlands.
Residents in Dorset, south Wiltshire, Hampshire and West Sussex have also been warned of likely flooding caused by high groundwater levels.
In total the Environment Agency has issued 88 flood warnings – meaning flooding is expected and immediate action is required. It has also issued 124 flood alerts across England.
The Environment Agency estimates that around 570 properties have been flooded since the New Year, and that a further 239,000 properties have been protected by flood defences.
The insurance industry is yet to release estimates of the cost of this winter's floods, but it is expected to run into hundreds of millions of pounds.
James Rakow, insurance partner at Deloitte, told the Financial Times that the cost to the insurance industry is unlikely to exceed the £3.3bn paid out after the UK's last severe winter storms, in 2007. Despite the adverse weather this winter the number of properties that have flooded is still expected to be far short of the number hit in 2007.
There are currently no severe weather warnings in place, according to the Met Office. Next week's weather forecast for the UK warns that low pressure to the west of the UK and coastal gales could create a risk of further impacts from big waves around some coasts in the west and south.
The end of the week is predicted to be less stormy than recently, and there is a risk of colder weather towards the end of January, with less risk of wet and windy storms.
Watch amateur footage of the flooding in Oxford on YouTube, below: