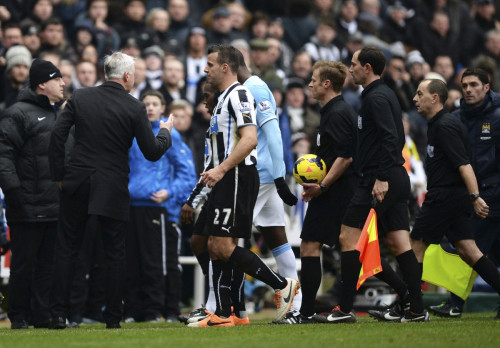 Newcastle United manager Alan Pardew's feeling of injustice could be accentuated by a Football Association misconduct charge after television cameras recorded an expletive-laden exchange with Manchester City boss Manuel Pellegrini during the controversial defeat at St James' Park.
Pardew could also face punishment after confronting referee Mike Jones at half-time and criticising the official during his post-match interview after Cheick Tiote's first half strike was ruled out for offside.
Yoan Gouffran was adjudged to have interfered with play and distracted City goalkeeper Joe Hart as the Ivory Coast international's shot soared into the top corner, a decision which left Pardew fuming with both Pellegrini and Jones, who consulted with assistant Ron Ganfield before the goal was disallowed.
City went on to win the game 2-0 through goals from Edin Dzeko and Alvaro Negredo either side of the break but the main talking points surrounded Tiote's chalked out strike which provoked a row between Pardew and Pellegrini which saw the Newcastle boss call the Chilean a "f*****g old c**t".
"I hear that what I said has been picked up a bit and I apologise for my comments," said the Newcastle manager said.
"It was a heat-of-the-moment thing, words that we always have as managers, to a degree. I've apologised to him and I'm fortunate that he's accepted them.
"I have apologised for using that particular word. You know, we always tease each other and have words. What he said to me is going to remain private, but it didn't merit my response, to be honest.
"I was frustrated today. And I think most Newcastle fans were, but I did not complain at every decision."
Pellegrini responded to Pardew's abuse by saying: "I'm not surprised [by his behaviour]. "I know they are playing at home, and they have advantage in that sense, but it is impossible to complain about every decision, that is why I had a problem with Alan, but it is nothing important."
Should Pardew escape action following his exchange, the he could yet face FA action after slamming Jones' decision not to award the equaliser.
"The guy's hit a goal that Joe Hart is just not going to save," Pardew explained. "It goes through a number of bodies but his vision is not impaired.
"I don't think he was clear in his answers - I couldn't work that out. He's got that wrong and unfortunately that was a massive call. In these types of games that has got to go your way.
"I thought it was a clean goal, I didn't think there was any doubt," he added. "My point was, did he think Gouffran was interfering with Joe Hart and he said 'he was in the six-yard box'. I get that, the guy was recovering from an offside position, but he didn't want anything to do with the play.
"He was not interfering with Joe Hart's vision. He said it got a deflection, which it didn't. If you're going to call a guy retreating from the offside position it has to be pretty clear that he's interfering with play. Neither the referee or the linesman could have been clear about that."