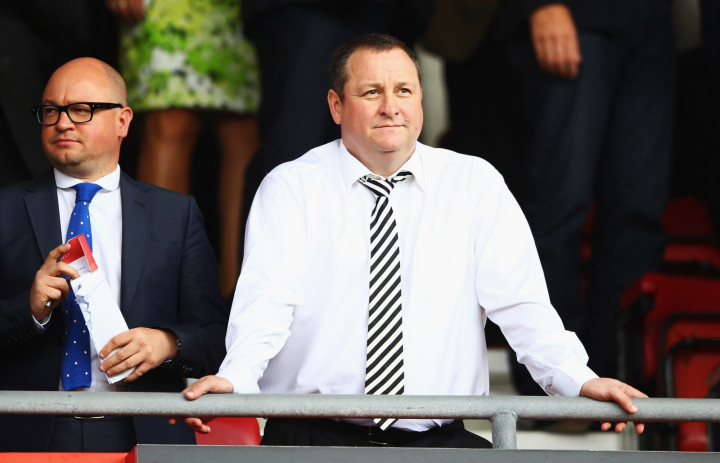 Newcastle United owner Mike Ashley faces a dwindling number of candidates to replace Alan Pardew following his haphazard reign at the helm of St James' Park, according to former midfielder Rob Lee.
Pardew is likely to remain as Toon boss for the visit of Swansea City this weekend despite his side suffering its third league loss of the season at Stoke City on Monday, with reports indicating Ashley will continue to keep faith with the under-fire manager.
Both Ashley and Pardew have come under attack from Newcastle fans following seasons of underachievement in the north east, with supporters demanding both individuals leave the club.
While Ashley has remained at The Magpies amid waves of discontent from the stands during his seven years as owner, Pardew's role in the face of continued protests is less certain, but Lee wonders whether any potential target would be interested in the position.
The ex-Newcastle midfielder told talkSPORT: "If you change, who are you going to change [Pardew] for? With Ashley pulling the purse strings what manager is going work for him under the conditions Pardew is working under?
"Pardew is in a tough position. He takes a lot of stick for him - some justified, some not - and surely he would know he needs Premier League players and goalscorers," said Lee.
"They don't look like scoring goals and they've got a leaky defence. And if you let them in at one end and don't score them at the other, you're going to be in relegation trouble.
"This has been coming for a long time. At a normal club, when a chairman gets stick from the fans he sacks the manager. But it's not a normal club.
"Ashley takes stick [from Newcastle fans] and has been taking it almost since he got there, but it doesn't bother him. He does exactly what he wants to do.
"He'll probably go against what the Newcastle fans want and who else will work for him under those circumstances?
"You haven't got much money, you can only pay players a certain amount of money and they must be under the age of 24. Your hands are tied before you start."