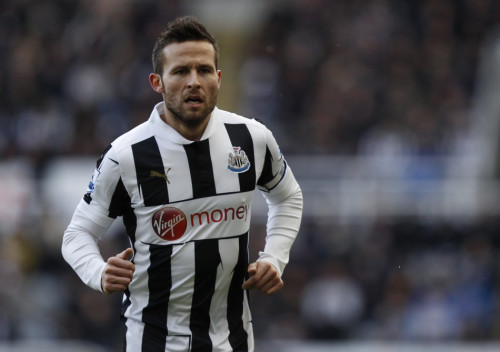 Newcastle United have agreed a fee to sell Yohan Cabaye to Paris Saint Germain for a fee reportedly in the region of £19m.
Alan Pardew's side rejected an opening bid of £14m from the Ligue 1 champions on Sunday but the club swiftly returned with an offer that matches Newcastle's valuation of the France midfielder, who is expected to agree personal terms with Laurent Blanc's side this week.
Manchester United were also thought to be considering a late bid for the former Lille star, but PSG's latest offer has urged Newcastle to cash in rather than risk a repeat of the incident at the beginning of the season, where the midfielder refused to play after a bid from Arsenal was turned down.
The Newcastle boss yesterday revealed that he was not confident of retaining the 28-year-old's services beyond Friday's transfer deadline, telling reporters: "You are talking to someone who lost Andy Carroll with eight hours to go, so am I confident? No, I'm not confident and I don't think any team not in a Champions League position or fighting for a Champions League position could be."
"I don't want him (Cabaye) to go. We have not indicated for one moment here from the owner down to any of my staff that we want him to go, not one iota."
Newcastle are now faced with the prospect of securing a replacement for their influential midfielder before Friday's deadline. Lyon midfielder Clement Grenier was widely tipped by the French press as being the man lined up for that role, but the 23-year-old has little desire to leave Les Gones half way through the season.
Speaking of Newcastle's interest in his services, Grenier to beIN Sport: "I learned this morning in the press like you." "I have no idea what can be said or done at this time. At one point, the president said that if good offer came in for me this winter, he would study it . I do not know if he received an offer or not. I'm not at all thinking about this track. I am not aware of any effective offer."
Although the France international is cautious of a move at this point in the season, it would appear the France international would be open to a switch in the summer.
"For the moment, it is not in my head (Newcastle's offer). In the short term, I have goals with Olympique Lyonnais by the end of the season. The World Cup is one of my goals. It is in a small corner of my mind. Is it better for me to stay in Lyon? For the moment, yes. There are still many goals with Lyon. I have the chance to play as often as I can. After that, we'll see."