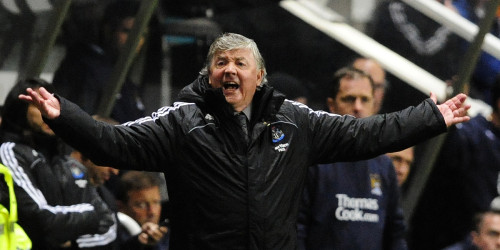 Newcastle United legend Alan Shearer believes Joe Kinnear's resignation as the club's director of football is linked to the failure to sign a replacement for influential playmaker Yohan Cabaye.
Cabaye was sold to Paris Saint Germain in the final week of the January transfer window but the Toon were unable to replace the French international despite recouping a reported £20m.
Kinnear has therefore become the first casualty of the failure to replace Cabaye, eight months on from his appointment, a tenure which has been littered with embarrassing episodes and uncertainty over the future of manager Alan Pardew.
"I was surprised by the announcement in the first place," Shearer told BBC Sport. " Joe himself announced it on the radio and got all those names wrong after being out of the game for so long. It was a strange appointment in the first place.
"I am not surprised. When you sell your best player, as they did three days before the deadline, you have to have a plan. You have to have someone ready to come in because there was talk about Cabaye going to PSG anyway so there must have been a plan there anyway.
"Whether that is Newcastle's way of saying he didn't do his job and bring players in we're not quite sure. I hope it's not ill health but I am not sure what his job was anyway at Newcastle.
"Only one guy can sign the cheques and that's the owner. Whether that is them saying 'that's his responsibility' and 'that's the way we're going down and he's going to take responsibility for that' but if Mike isn't going to sign any cheques to bring players in then the manager and the director of football have got their arms tied."
Newcastle were linked with moves for Remy Cabella and Clement Grenier but neither were lured to the north east and the club continued to feel the effects of Cabaye's absence after the 3-0 defeat to Sunderland in the Tyne-wear derby.
The club have no plans to replace Kinnear, who was appointed in June – returning to St James' Park five years after a spell as manager – having seen managing director Derek Llambias depart following the arrival of the ex-Wimbledon boss.
Kinnear's spell at Newcastle was littered with disconcerting moments, which included an infamous radio interview on Talksport during which he mispronounced a number of players' names and the reported request to sign Shane Ferguson from Birmingham City, who is on loan from the Magpies.