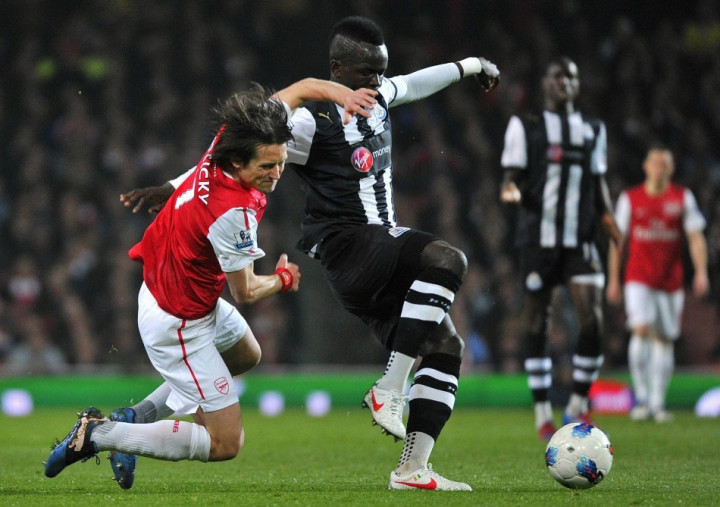 Newcastle midfielder Cheick Tiote has revealed he is likely to leave St James Park, while also confirming he has recently held talks with Arsenal regarding a move to the Emirates Stadium.
The 28-year-old midfielder joined the Magpies in 2010 for £3.5m and has since been a pivotal player for manager Alan Pardew.
Even though he has contract at Newcastle until 2017, the club were set to offer him a new deal in order to see the midfielder committing his long-term future to the club.
Pardew himself recently confirmed the club's intentions and heaped praise on the Ivory Coast midfielder.
"I love him. He's everything that you want in a Newcastle player. He has the quality, and of course you'll never underestimate the fact that he wants to win. That's something we have to be very careful about on training days! I just love that he's a winner. It can overcome so many obstacles as a footballer," the manager said.
However, it looks like the midfielder has other plans as speaking with press in his home country, he revealed his intention to leave the club in the January transfer window.
"I want to leave. I've spent four years with Newcastle. I think I have reached a stage where it's maybe time for me to look elsewhere for a new challenge," he said.
"I will focus on upcoming games and let's see what happens between now and December."
Furthermore, Tiote has claimed he would like to remain in the Premier League and admits talks with the Gunners.
"It is true there were contacts for me from Arsenal and a club in Russia. I'd prefer to stay in England," he said.
Tiote's quotes may encourage Wenger to renew his efforts to secure his services in January.
Having failed to sign a holder during the summer, the French boss is struggling to forge a consistent midfield during the first part of the season due to the injuries of a number of players, including Mikel Arteta, Aaron Ramsey, and Jack Wilshere.