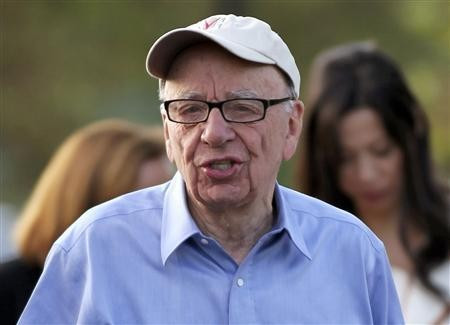 A key US senator called for a probe into whether alleged hacking by Rupert Murdoch's media empire had extended to U.S citizens and warned of "severe" consequences if that proved the case. U.S senator Jay Rockefeller has called for an investigation into whether any of News Corp's organisations in the country have hacked U.S citizens. It is a further blow to the embattled owner, Rupert Murdoch, who is set to lose out on his bid to take over the U.K Company BSKYB.
Mr Rockefeller has asked the authorities to investigate if any journalists working for Rupert Murdoch's organisation had targeted any U.S citizens and warned that the company, which is based in the U.S, would face 'severe' consequences if found guilty.
The U.S senator is the first noteworthy U.S politician in Congress to call for an investigation into the phone hacking scandal. The senator, who has chaired the U.S senates Intelligence Committee for years said: 'I encourage the appropriate agencies to investigate to ensure that Americans have not had their privacy violated.' He continued: 'The reported hacking by News Corporation newspapers against a range of individuals - including children - is offensive and a serious breach of journalistic ethics. This raises serious questions about whether the company has broken US law.'
It will be a blow for Rupert Murdoch whose American empire consists of Fox News, Wall Street Journal, New York Post and Harper Collins. Mr Rockefeller's remarks raise the spectre of litigation against News Corp in the U.S, where it is based. On Tuesday, Julius Genachowski, the chairman of the U.S Federal Communications Commission, played down the threat of his agency's involvement on the issue by saying: 'There is obviously a process going on in the UK, and that is not a process we expect to get involved in or interfere with, 'said Mr Genachowski.
However, the FCC head said his agency would "do its job" if new developments prompted it to become involved. News Corp relies on the US market for the bulk of its revenues, through the Twentieth Century Fox movie studio, Fox News Channel and the Fox broadcast network.
For the latest developments on the News Corp phone hacking scandal click here