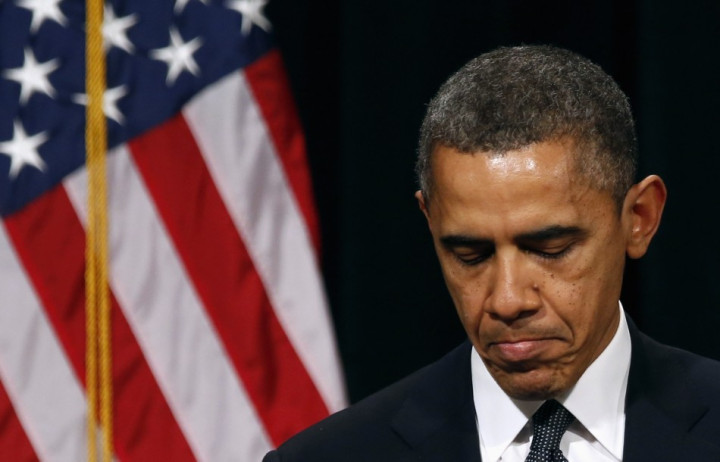 US President Barack Obama has shared his grief with the families of the victims of the Connecticut school massacre which claimed 27 lives, including 20 children.
Speaking at an inter-faith vigil over the shooting rampage at the Sandy Hook Elementary School in Newtown, Obama stressed that American children should be protected and such "tragedies must end".
Without mentioning the gun control debate which has been revived by the Connecticut tragedy, Obama said the US would have to "change" to protect its children.
"Here in Newtown, I come to offer the love and prayers of the nation. I am very mindful that mere words cannot match the depths of your sorrow, nor can they heal your wounded hearts," said Obama, addressing a packed Newtown High School Auditorium.
"I come to offer the love and prayers of a nation. You are not alone in your grief. All across this land of ours we have wept with you.
"We can't tolerate this anymore. These tragedies must end and to end them we must change."
He also took the opportunity to meet the victims' families and emergency workers who grappled with the aftermath of the incident, and acknowledge the school staff members who lost their lives while trying to protect the children.
"They responded as we all hope we might respond in such terrifying circumstances. With courage and with love, giving their lives to protect the children in their care," noted Obama.
Meanwhile police have confirmed the identity of the gunman as Adam Lanza, 20. Lanza, who lived locally and is reported to have been shy and reclusive, killed himself after opening fire at the school.
The officials are also about to release the victims' bodies to their respective families, as more details about the incident emerge. It has been revealed that the gunman was armed with hundreds of rounds of ammunition for his semi-automatic rifle and two handguns, and had a shotgun which was left in his car.
Forensic experts and investigators are at the scene and the probe is likely to continue for weeks.
"We have the best of the best working on this case. ... Our goal is to paint a complete picture so that we all know and the public knows exactly what happened here," said Lieutenant Paul Vance.
Sandy Hook School Massacre: Obama Comforts Grieving Community [PHOTOS]