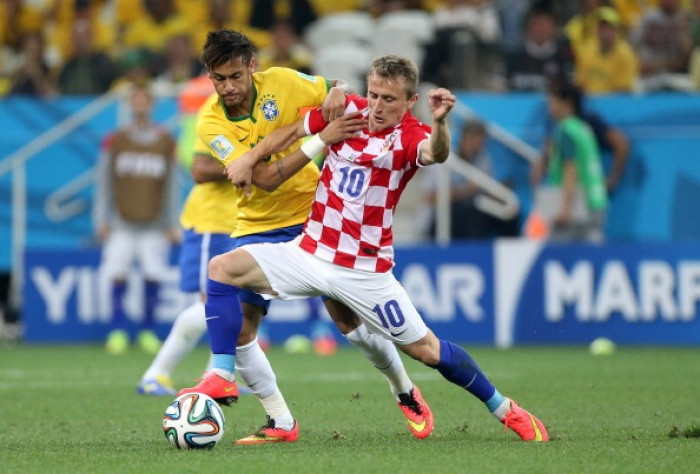 An underwhelming Brazil escaped an early scare to overcome Croatia 3-1 in the opening game of the World Cup in São Paulo on Thursday night.
A raucous Itaquerão stadium was plunged into silence after defender Marcelo, who clearly hadn't read the evening's script, put through his own goal in just the 12th minute. But Brazil, led by Neymar, who scored twice, turned the Group A clash on its head.
Here are five things we learned from the opening game of this year's World Cup.
Brazil got lucky
Neymar could have been sent off for a hand into the face of Luka Modric. Sadly Fred then picked this grandest of stages to reveal his double-life as a burgeoning thespian, throwing himself to the ground under the slighest of contact from Dejan Lovren for Brazil's penalty. Croatia goalkeeper Stipe Pletikosa should have saved all three Brazil goals.
Doubts over Neymar
The Brazilian striker scored 15 goals in 41 apperances for Barcelona last season, in a campaign where he failed to live up to his £70m price tag. Neymar's scuffed first goal, almost-fluffed penalty and stiffled runs meant the 22-year-old still has some way to go to prove he is the hero Brazil craves.
Brazil's defensive frailties
"Brazil has the defence better than the attack", said Pele. But all Croatia had to do to score was break quickly, sling a cross into the box and allow David Luiz to do the rest. The Chelsea defender was caught behind play and the back line's propensity to motor forward left gaps against Croatia and will continue to do so throughout the tournament.
Croatia could surprise
The Europeans looked comfortable for vast swathes of the match. Their midfield duo of Luka Modric and Barcelona-bound Ivan Rakitic provided guile while Dejan Lovren and Vedran Corluka were more comfortable than the scoreline suggests. Add a returning Mario Mandzukic, who was suspended, and Croatia can progress from the group and cause teams difficulty.
Brazil 2014 will be fun
Brazil 2014 had already eclipsed South Africa 2010 and that was before the beguiling introduction of 'invisi-spray'. Goal line technology also made its debut, though replays of goals that almost burn a hole in the net might become tedious after the first two or three. Then there's the threat of entire stadia collapsing and players melting in Manaus. Time to sit back and enjoy.