UK Farmers Face £1.3bn Tab from 2012's Record Rainfall and Soaring Feed Cost 'Double Whammy'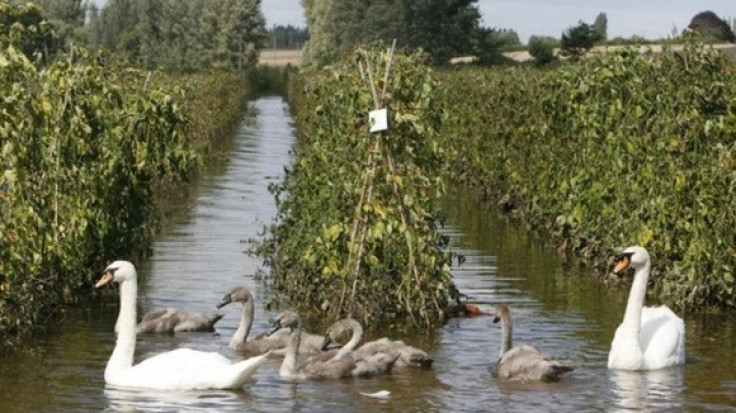 Britain's farmers have been left with a £1.3bn black hole in their finances for 2012 due to record-breaking rainfall and the spiralling cost of animal feed, according to the National Farmers Union (NFU).
NFU president Peter Kendall warned that his organisation's members faced a "double whammy" of England's wettest year on record and volatile food prices pushing up the cost of livestock feed across 2012.
"We know drought in the key production regions across the globe is the main driver for rocketing animal feed costs while in stark contrast, at home, a wash-out summer further compounded by a sodden autumn and winter has hammered production," said Kendall in his New Year message.
"Climate change scientists have long predicted that agriculture will face major challenges from global warming. However 2012 has starkly demonstrated the cost that extreme weather events can wreak on farmers and the food supply chain."
Data from the UK government's Department for Environment, Food and Rural Affairs (Defra) shows UK farm income in 2011 increased by 24 percent on the previous year, reaching £5.57bn. The figures for 2012 have not yet been released.
Wet weather saw crop yields dwindle, with NFU research showing wheat production alone falling by 14.6 percent, the lowest in more than 20 years.
Drought across the globe, including the worst dry spell in a quarter of a century for US farmers, has pushed up grain prices.
This has sent livestock farmers' feed bills soaring.
Kendall called for UK farmers to be treated equally to their European counterparts if the Common Agricultural Policy (CAP), which pays out vast subsidies and accounts for around half of the EU budget, is to be renegotiated, potentially facing cuts as governments' spending is slashed in response to the world economic crisis.
"In years like 2012 it is very clear to see that the support farming receives from the CAP is an absolute lifeline to many farmers," said Kendall.
"If there is to be a reduction in these payments it should take place evenly across Europe's single market. Already an English dairy farmer, on a typical 100 hectare farm, receives 20,000 euros a year less than a Danish or Dutch competitor. This has to stop.
"Recently, we have heard government representatives refer to these support payments as 'worthless', arguing that payments should only go to environmental goals. With the possible exception of Sweden, the UK government is the only one out of 27 member state countries in the EU arguing in this way.
"I firmly believe the only likely outcome of this strategy is further discrimination against English farmers. What is more, this ideologically-driven approach is outdated given the increasing volatility in global prices and the challenging global climate.
"In a new year that is likely to be critical in terms of agricultural policy it would be helpful if ministers could explain how they think English farmers can face the challenge of more hostile weather events with only a fraction of the support given to their closest competitors in Europe?"
© Copyright IBTimes 2023. All rights reserved.