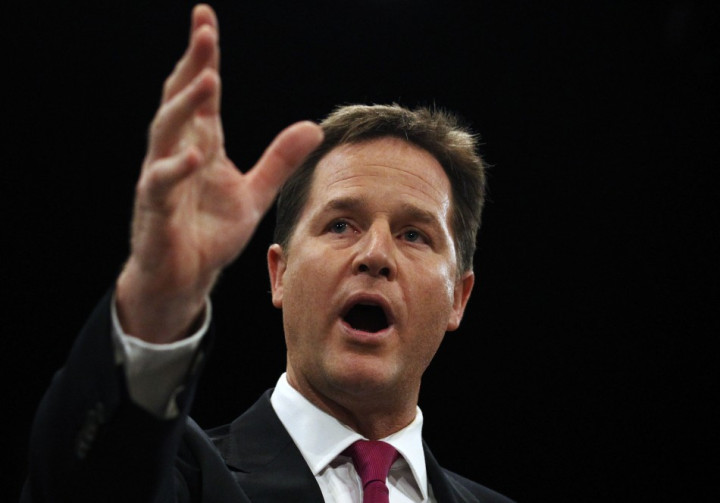 Nick Clegg has condemned Labour MPs for joining Tory rebels and defeating the government in last night's EU budget vote.
The deputy prime minister, who is strongly Europhile, labelled Ed Miliband's party "dishonest and hypocritical" in joining the clamour for a budget cut.
MPs voted by 307 votes to 294 in favour of a motion brought by Tory backbencher Mark Reckless, demanding a real-terms reduction in the EU's budget.
The vote marked a significant defeat for the government, whose whips worked frenetically throughout the day to compel MPs to vote against the motion.
Labour called it a 'humiliation' for the prime minister, who faced calls that he was a weak leader leading a divided party.
In response, Clegg described Labour's support for the motion as "very cheap politics" and accused Ed Miliband's party of contradicting its previous position on Europe - alluding to the fact that Labour increased Britain's contribution to Europe by around £7bn during its recent period of power.
The Liberal Democrat leader said Labour's "change of heart is dishonest, it's hypocritical. And worst of all, Labour's plan would cost the taxpayer more, not less.
"Because in pushing a completely unrealistic position on the EU budget - one that is miles away from any other country's position - Labour would have absolutely no hope of getting a budget deal agreed.
"We've been waiting for years for the Labour Party to finally announce how they would cut spending. Now they have finally come out in favour of cuts but in a way they know is undeliverable, and in a way that would hurt British taxpayers. And it turns out even their cuts cost money."
Click here for what the chastening vote defeat means for Cameron's brand new chief whip, Sir George Young.
Clegg also warned Europohobic Tory MPs behind the government bench they had "no hope" of forcing the EU to reduce the amount of money it spends.
At present, 17 from 27 nations benefit financially when the EU budget gets renegotiated, meaning that any vote in favour of budgetary increase is likely to be carried. Thus a budgetary freeze is only likely in the event of a veto.
Cameron will not be bound by the result of the MPs' vote when he attends budget talks in Brussels, due to take place later this month.