Britain's Deputy Prime Minister Nick Clegg said UK companies are set to leverage business opportunities in Mexico after recent economic reforms, and will not be put off by the country's well publicised drug violence.
Speaking to the media in Mexico, during his trade visit to the country's capital, Clegg said that while British companies recognise the security threats, they are more focused on opportunities in the second largest economy in Latin America.
"Most of the investors I've spoken to accept there are parts of the country where there is conflict, there is violence, there is insecurity," said Clegg during a trade visit to the Mexican capital.
"But I think ... far from seeing threats, many, most, all of the members of the delegation I've brought only see opportunities in Mexico."
Clegg highlighted Mexico's population of nearly 120 million people and Pena Nieto's reform package as the main lure for British businesses.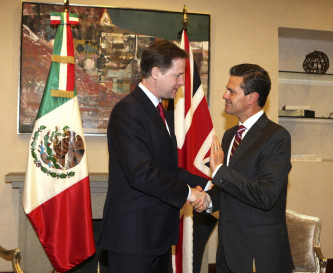 Mexico's President Enrique Peña Nieto has installed a number of radical economic reforms since he started his six-year term in 2012.
For example, within one year of being in power, Pena Nieto's administration erased $340m (£208m, €252m) of Cuba's debt to Mexico, or about 70% of the total amount, which is more than the value of trade between the two countries.
He has also pushed through landmark reforms to spur competition in a telecommunications industry dominated by billionaire Carlos Slim. He is also looking to overhaul the state-owned dominated energy sector in order for gain a huge influx of foreign direct investment (FDI) from oil giants.
Mexico FDI totalled a record $28bn during the first nine months of 2013.
US Commerce Secretary Penny Pritzker also supported Clegg's statements by saying that American firms were also focusing on business opportunities, during a reception held for the British deputy PM by the heads of the Mexico offices of oil giants BP and Royal Dutch Shell.
"The issue of security has not been at the forefront of conversation," said Pritzer.
"The focus has really been on what are the opportunities and how can American companies be part of a win-win solution for some of the challenges facing Mexico."
However, Mexico is riddled with drug problems, crime and heavy gang violence related to the trafficking of illegal narcotics.
Since 2007, drug gang violence has killed more than 80,000 people and while the murder rate has fallen slightly since Pena Nieto took office, it remains stubbornly high.
The kidnapping and extortion rates have also sky-rocketed as nationwide violence, perpetrated by drug gangs have led to criminals honing in on rich business executives.
Despite all this, Mexico had its sovereign rating upgraded to the coveted "A" grade by Moody's on 3 February.