The Thistle Hotel chain has been accused of homophobia after one of its receptionists refused to give a gay couple a pre-booked room with a double bed.
The staff member at the company's Thistle City Barbican hotel insisted on giving Nick Hurley and Gavin Maclean separate beds when they tried to check in at the weekend.
Hurley, 22, vented his anger on Twitter, prompting a public outcry at the hotel and its attitude towards gay couples.
The web designer wrote: "Homophobic receptionist at @ThistleHotels refused me & my bf our pre-booked double room. Insisted we take a 'family' room w/ separate beds.
"I shall be writing a very strongly worded letter in the morning. It's absolutely not acceptable in 2013."
The hotel, which is part of the Guoman Hotel Group, was prompted to apologise for the behaviour of the receptionist, responding to Hurley: "We're sorry to hear this. We take matters like this very seriously."
It added that they plan to investigate the incident "immediately".
Hurley and Maclean, 28, had been visiting London for the weekend and had attended a theatre show before arriving at the hotel at around 11.30pm.
Explaining how they were treated, Hurley said: "When we got there, we tried to check in, and the receptionist looked at us and said 'are you sure you want a double room or do you want single beds?'
"He had obviously seen it was two guys. We said 'we've booked a double and we'd quite like one'.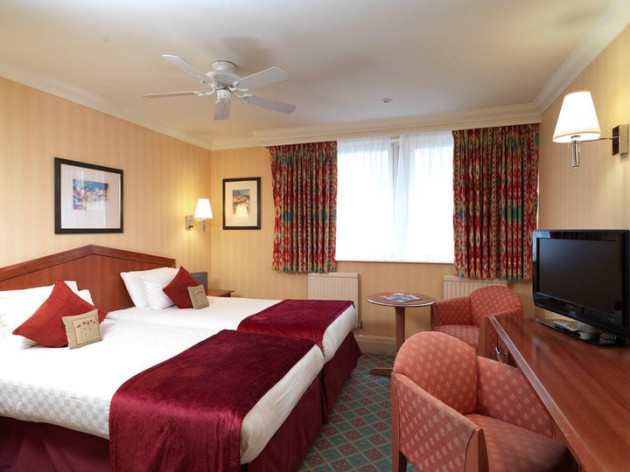 "He then looked at us and said 'are you sure you don't want single beds?'
"He insisted on repeating that question. He said 'we'll have to put you in a family room, with single beds. There were no doubles left in the hotel'.
"This kind of thing is basic bullying. It can't happen. If anything comes out of this, it should inspire organisations to change.
"As a society, we have a responsibility to treat everyone equally. Tolerance is important."
Thistle yesterday said it was holding a staff meeting at the Barbican hotel to "reinforce we do not tolerate discrimination".
The company has also had to publicly disassociate itself from its former board member Baroness O'Cathain, who is known for her conservative views particularly in relation to gay rights, including opposition to gay marriage and civil partnerships in religious institutions.
Thistle said: "Our CEO wishes to make it clear that views of previous board members are not supported by the current management team."
Meanwhile Ben Summerskill, chief executive of lesbian, gay and bisexual charity Stonewall, said: "Subject to the facts being as reported, it's sad to see that this sort of thing is still happening as it's been unlawful for five years.
"A major hotel company must be well aware they can no more turn away a gay couple than a mixed race couple, even though they might not approve of them either."