Nick Kyrgios says he felt 'unbeatable' when he played Rafael Nadal and Novak Djokovic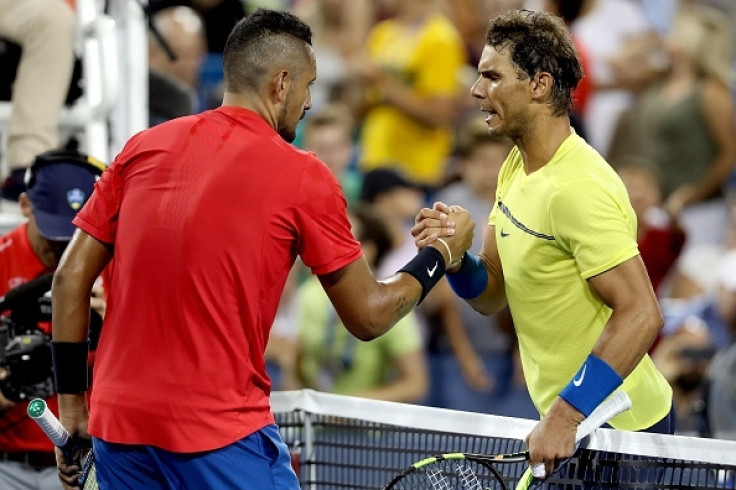 KEY POINTS
Kyrgios is known for stepping up whenever he faces a big name.
The 21-year-old is only the second player to defeat Nadal, Federer and Djokovic in their first meetings.
Nick Kyrgios has revealed how with the right frame of mind, he feels unbeatable no matter who his opponent is.
The flashy 22-year-old most recently crashed out of the US Open late in August after suffering defeat to 185-ranked John Millman in the opening round.
It continues a trend where Kyrgios seems to "tank" against the lower-ranked players but flourish against the big names, having most recently defeated world number one Rafael Nadal at the Cincinnati Open.
The Australian has also defeated Novak Djokovic twice this year while he took Roger Federer to the distance in the Miami Open, with the Swiss ace requiring two tie-breaks to defeat Kyrgios.
Just the second player to defeat Nadal, Federer and Djokovic in his first meetings with the trio, the 20-ranked Kyrgios spoke about his motivation when it comes to winning.
"I love to win. Whether it's chess, or Call Of Duty or tennis, I hate losing and I get angry – as you might have picked up! – when I feel like I'm not performing to my potential," Kyrgios wrote on PlayersVoice.
"When I'm in the right frame of mind, I feel unbeatable. That period this year where I beat Novak Djokovic a couple of times in a row in Acapulco and Indian Wells? Yep. Unbeatable.
"I felt like a lot of people thought the first win over Novak in Acapulco was a fluke. I knew it wasn't and was really motivated to show that. As fate had it, I played him again a week and a half later in Indian Wells and won in straight sets.
"When I'm in that frame of mind – when motivation levels are high – I feel like I can beat anyone who steps out on the court. The match is on my racquet and the ultimate result is up to me."
Kyrgios has had some inconsistent results since a promising two-month spell earlier in the year but still managed to completely dominate Nadal in Cincinnati in August, inflicting just the Spaniard's third loss since May.
The Canberra native went on to reach the final, only to lose to the eventual winner in Grigor Dimitrov.
"It was the same story playing against Rafa Nadal in Cincinnati," Kyrgios continued. "It's easy to get up for a match like that. Big name opponent. Centre court. Huge challenge. I love that."
"It's against the lower ranked guys on the back courts where I can't get it together and tank. Obviously, my Grand Slam season has been terrible.
"I meant what I said straight after losing to John Millman in New York. Maybe it's time for Sebastian Grosjean to work with someone more dedicated than me."
Kyrgios will take part in Davis Cup action next from 15-17 September, having helped Australia reach the semi-final stage to set up a meeting with Belgium.
© Copyright IBTimes 2023. All rights reserved.