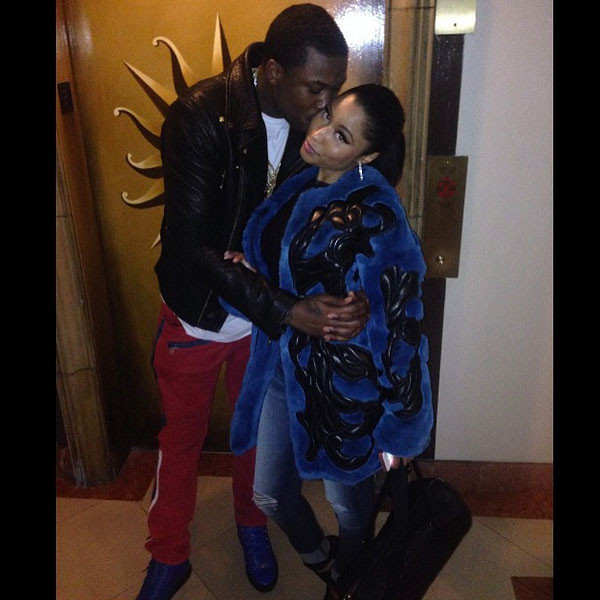 Fans looking forward to a Nicki Minaj and Meek Mill wedding might have a long wait.
The rapper, whose real name is Robert Rihmeek Williams, has revealed that, while his relationship with the Young Money star is "real", he isn't quite ready to tie the knot and hasn't proposed.
Speaking to Fader magazine, he denied the marriage rumours and insisted: "I ain't engaged".
He added: "It's definitely real, but ain't really time to get married yet. We're still learning each other, feeling each other out."
The Young Money rapper went public with the Maybach Music star in February by sharing a snap of her partner planting a kiss on her cheek.
In April, Minaj sent the internet into meltdown after appearing to announce her engagement to Bag of Money hit maker after just two months of dating. She uploaded a photo of her and her new beau captioned "Miami Nights" and wrote on social media: "I wish every night could feel like last night."
After eagle-eyes fans noticed the ring on her finger, the Pinkprint hitmaker sent her Barbs into a frenzy by posting a diamond ring emotion on Twitter, teasing "I'll post it later" before finally unveiling a heart-shaped rock on her wedding finger, worth an estimated half a million dollars.
Although Minaj kept tight-lipped about the extravagant gift, her mother Carol Maraj, the closest person to her, rubbished rumours that her daughter was preparing to walk down the aisle.
Speaking to celebrity news site Bossip.com at the Dress for Success Worldwide gala in Manhattan, where she was being honoured for her work with victims of domestic violence, she said: "I talk to my daughter every day, and she said she was not engaged."
But despite the denials, fellow hip-hop star T.I. is not convinced.
Fader reports that when he recently bumped into Meek Mill, he pointed out that men don't give women diamond rings without some sort of promise of commitment.
"You never asked her, "Will you be my girlfriend?" But she is your girlfriend," he said to the rumoured fiancé. "You may not have asked her, "Will you marry me?" But you are engaged."
Meanwhile Minaj has made no secret of her desire to start a family, recently telling Complex magazine: "I definitely will be married before I have my baby. If I'm done with my fifth album and I don't have a child by then, no matter how much money I have, I would be disappointed, as a woman, because I feel like I was put here to be a mother."