Claims that Nicki Minaj branded her former Young Money labelmate Tyga a "pervert" may not be true after all.
In the Feeling Myself music video which features Beyonce, the Anaconda hitmaker is accused of blasting Tyga, 25, for his alleged romance with 17-year-old Kylie Jenner by wearing a baseball jersey with the slogan "Pervert 17" on the front.
However, an investigation by eagle-eyed fans has revealed that there may be another reason for the controversial message.
It appears that the jersey was actually designed by Givenchy creative director Riccardo Tisci for their seasonal campaign in 2013.
Beyonce's husband Jay Z was also pictured wearing the black jersey at the listening party for his Magna Carta Holy Grail album that same year.
However, the origins for the t-shirt dates back even further as singer Janet Jackson wore a cropped version of the jersey to the MTV Video Music Awards in 1995.
Although Jackson's version, which was reportedly designed by a young man in Florida, features the number "2" as opposed to "17" which was added by Tisci's fashion house.
There are different styles of Givenchy's "Pervert 17" range and it also extends to various other products including purses.
It is still entirely possible that Minaj, 32, wore the t-shirt to make a dig at the Rack City rapper, who has made it clear in the past that he has bad feelings towards the Superbass chart-topper.
In an interview with Vibe magazine shortly after he announced his plans to leave the Young Money label, Tyga explained why he had fallen out with Minaj and Canadian rapper Drake.
The Ayo rapper explained: "I don't really get along with Nicki. I think being signed to Young Money, everybody felt like they had to force a relationship 'cause Wayne put us together.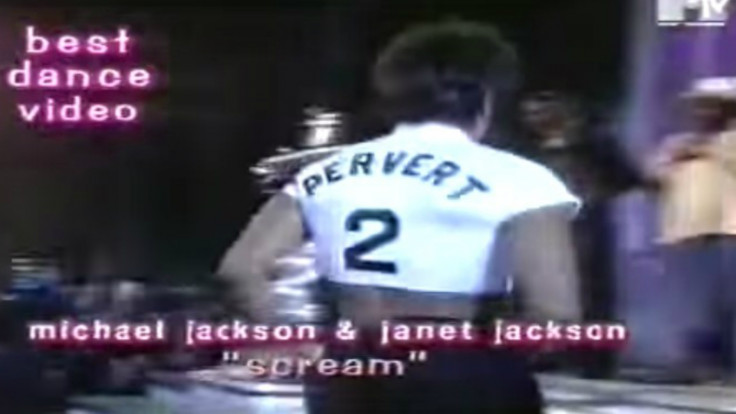 "At the end of the day, the reason why I signed to Young Money is because of Wayne. Not because of Drake, not because of Nicki."
Despite the fact that Minaj's intentions of wearing the jersey may be innocent, a source claims that Kylie's brother-in-law Kanye West is planning on releasing a "diss track" to defend the rumoured couple.
The insider told Hollywood Life: "Kanye is taking [the insult against Kylie & Tyga] personally. He's sick and tired of people attacking Tyga and Kylie's relationship and he's not about to let Nicki get away with it by being so outright rude in her video.
"He plans on retaliating with a song that will diss all the haters, including Nicki, Amber Rose and Black Chyna."
Tyga has received heavy criticism over the claims that he is in a relationship with the Keeping Up With The Kardashians star given the large age gap.
The hip hop star split from his ex-fiancee Blac Chyna in July 2014 and they share custody of their two-year-old son King Cairo.
A teaser of Nicki Minaj and Beyonce's Feeling Myself music video: